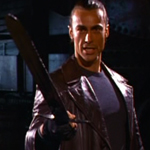 Where was I before I got off on this HIGHLANDER tangent? It was something about swords, right?
Oh yeah – G-2. I watched the Lorenzo Lamas fantasy/cop/fighting circuit movie THE SWORDSMAN (1992) and its sequel GLADIATOR COP (1995). I didn't find out until after posting it that yes, as I kinda suspected, all the Lamas footage in the second one was outtakes from the first one. Used without permission, even. I should've checked The Good, the Tough and the Deadly, where david j. moore interviews Lamas, who says he only learned about GLADIATOR COP from an ad in a trade magazine, and when he threatened to sue they paid him what he got for the first one. Easy (if embarrassing) payday.
But the other weird thing I learned is that GLADIATOR COP writer/director Nick Rotundo, despite only having done the stock footage sequel, not the original, felt enough ownership of it to later do this not officially related 1999 movie about the same thing. Like both SWORDSMAN movies it deals with the (now re-designed) sword of Alexander the Great, which it again says is blessed by Apollo, and a modern day guy who's good with swords draws pictures of it after having had dreams of it and himself in a battle in the past.