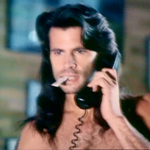 THE SWORDSMAN is an only-on-VHS Lorenzo Lamas joint from 1992. Coming two years after the end of Falcon Crest (for which Lamas was the only actor to appear in all 227 episodes), this was a particularly productive period for the actor and Taekwondo and karate black belt. His other films released that year were FINAL IMPACT, SNAKE EATER III… HIS LAW and CIA CODE NAME: ALEXA.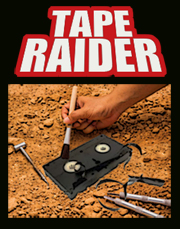 I've only seen one of those, but I bet none of them open with text about a king in ancient Greece:
"2300 YEARS AGO ALEXANDER THE GREAT INHERITED A LEGENDARY SWORD BLESSED BY APOLLO. WITH THIS SWORD HE FELT INVINCIBLE AND LED HIS TROOPS INTO BATTLE CONQUERING THE KNOWN WORLD. UPON HIS DEATH, ALEXANDER HAD THE LEGENDARY SWORD BURIED WITH HIM AS HE BELIEVED HE WOULD RISE AGAIN."
Lorenzo Lamas plays Andrew, a cool long-haired homicide detective who has psychic visions when he touches blood and in his spare time dreams images of himself in a robe looking at old statues and swords and fighting a guy with a hood hiding his face. Then he'll wake up, add a sketch to his dream journal, and tie his hair into a ponytail.
Andrew has a comic relief partner named Leo (Frank Crudele, BLACKJACK, STEP UP ALL IN, one episode of Highlander: The Series) and a therapist (Michael Copeman, THUNDERGROUND, SCANNERS III, UNIVERSAL SOLDIER II, six episodes of Highlander: The Raven including the pilot) who you can tell is kind of a cool ex-hippie type because he has grey hair but wears a colorful Hawaiian shirt and is into experimental therapies. (read the rest of this shit…)