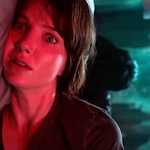 A cool thing about MALIGNANT is that the trailers made it look like the new movie from James Wan, the director of INSIDIOUS and THE CONJURING, when it's actually the new movie from James Wan, the director of INSIDIOUS, THE CONJURING and AQUAMAN. After you direct Dolph Lundgren on a seahorse you're not content to just do a fuckin demon possession or haunted house for your next horror movie. You gotta go further.
I feel a little out of step for not loving all of Wan's movies. In my CONJURING 2 review I wrote, "Like all of Wan's ghost movies, I started out thinking 'This is one of the most effective ghost movies I've seen!' and ended thinking 'I guess I just don't really like ghost movies that much.'" They're extremely well directed and I have a bunch of nice things to say about them, but I guess that genre just doesn't do it for me. (And I'm still uncomfortable that the great CONJURING protagonists are based on real life charlatans who never face accountability for their lifetime of exploitation.)
So I've always been in the weird position of being more into Modern Master of Horror James Wan's occasional non-horror movies. FURIOUS SEVEN, of course, and I love AQUAMAN, and it was DEATH SENTENCE that really turned me into a fan. I still think that's a brilliant and under-recognized version of the "vigilante revenge is not as great as it sounds" story, with some really original and well-executed action sequences, and Kevin Bacon giving a full-hearted dramatic performance unhindered by the pulpiness around him.
In Wan's first film since AQUAMAN (2018) and first horror film since THE CONJURING 2 (2016) he combines those well-honed horror chops with what he learned from making a movie with an octopus in warpaint playing FURY ROAD drums, and I'm so happy to finally be fully on board a James Wan horror joint. MALIGNANT is a keeper. (read the rest of this shit…)