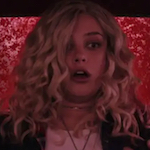 Yesterday when I reviewed LOVE AND MONSTERS I mentioned how much I enjoy the work of screenwriter Brian Duffield (JANE GOT A GUN, THE BABYSITTER, UNDERWATER), but I strategically avoided mentioning his directorial debut that came out just two weeks before LOVE AND MONSTERS, because I wanted to save that topic for today. SPONTANEOUS (2020) is another one that combines young romance and coming-of-age with a genre premise, and has some accidental pandemic parallels. It's more of a teen movie than a sci-fi one, but it's R-rated for "bloody images throughout." Adapted from a 2016 book by Aaron Starmer, it follows its witty, acerbic protagonist Mara (Katherine Langford, KNIVES OUT) as she navigates a senior year punctuated by dozens of her classmates randomly exploding.
"What? Like a bomb?" asks her best friend Tess (Hayley Law, Riverdale) after the first one, Katelyn Ogden.
"No. Like… a balloon?"
It happens in Mara's third period pre-calculus. She's just leaned down to pick up a pencil she dropped, so she misses seeing it and only gets blood on her Converse while everyone behind her gets drenched. Her class has to stay into the night at the police station, where they're showered and given grey sweat suits, interrogated, and made to wait around in a room together until the authorities are confident it was a one time thing. But it wasn't. People continue to explode periodically, specifically people at their school, specifically seniors. They call it "The Covington Curse." Mara calls it "the popping."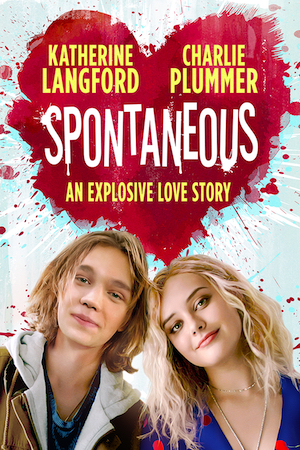 Katelyn's vivid illustration of mortality inspires Mara's classmate Dylan (Charlie Plummer, MOONFALL) to confess his two year crush on her. He's a kinda shy, upbeat sweetheart but surprises Mara by being able to hang with her dark sense of humor.
"How you guys doing?" he asks Mara and Tess at their favorite diner after Katelyn's service.
"All right," says Mara. "Definitely the best memorial service I've ever been to. Best funeral, too."
"Second best for me," Dylan says. "My dad's was better."
"Well holy shit, Dylan."
"It's okay. The Ogdens can just try harder next time."
They agree he's "bombing this banter," but I think in fact he has her curiosity. It helps that she's having her only ever shroom experience and he holds her hair back for her while she pukes in the ladies' restroom.
They start spending their time together, making each other laugh, telling each other embarrassing secrets, making out, flirting through plastic while E.T.-style-quarantined together, preparing elaborate romantic gestures, facing these sudden bloody deaths sometimes together, sometimes apart, and then worrying that it's each other. It's a very effective teen romance and one with an underlying dread, because a happy ending seems unlikely. These kids endure trauma after trauma and worry every day that they or their best friend or boyfriend or girlfriend could be next. They're at the age when you think most about the future, and they're not confident they'll have one.
I think the story is relatable to anyone, but the primary metaphor is specific to American teens of the last decade or two, who have grown up with the spectre of gun massacres and the fact of adults' absolute inability/refusal to do the one extremely fucking obvious thing to stop them from happening so often. It could be about any seemingly inevitable doom, including climate change, but there's too much school shooting imagery (not to mention an on-the-nose "thoughts and prayers" line) to avoid that one. For those who are big on the democratization of mass murder, you may still find something to like about the movie's cynical portrayal of the government and pharmaceutical companies handling a deadly disease through quarantines, pills and advertising (though, please note, they do figure out how to make it stop).
It's also really funny, mostly because the characters are funny, and joking their way through this. And I love all the clever little details about how this event changes things. Like, almost no one figures out that the prom dress Mara wears for Halloween is supposed to be Carrie White, because she knows it would be in poor taste to cover it with blood. "I know, Katelyn fucked it up," she accidentally blurts out. Dylan has a good attitude, though, using the popping as a reason to live it up. Afraid he might not make it to college, he goes to spend his savings on a car, and instead buys a used milk truck because "I saw it and I laughed and I thought other people would laugh too."
The teen movie that spoke to me most growing up was HEATHERS. This is one of the few movies that made me think of HEATHERS without seeming like it's necessarily trying to be like it at all. It doesn't copy any of the obvious aspects HEATHERS-wannabes used to (made up slang, fanciful cliques, black comedy murder plots). The connection is that it's about a burgeoning romance between cynical, morbid smart kids, and that they're able to have teenage fun, mischief and mistakes (including drugs, alcohol and sex) without the movie judging them for it or turning it into a cautionary tale.
I suppose there's a more direct similarity in their funny scenes about uncomfortably corny memorials for young lives snuffed out too soon. But there's a major difference: in HEATHERS, J.D. stages two football players' deaths to look like a lover's suicide pact, under the theory that being remembered as gay would be the ultimate insult to a homophobic jock; in SPONTANEOUS a similarly thick football player says at his teammate's memorial assembly, "When my bro came out to us in the sixth grade, we loved him. Because he was our best bro. And we're progressive like that."
In general, the kids in SPONTANEOUS get along, as opposed to the cruelty, bullying and backstabbing that I found to be so accurate in HEATHERS. I always saw that as the biggest dividing line between HEATHERS and PUMP UP THE VOLUME: I enjoyed the latter but felt it was bullshit that all the kids were on the same side against the adults (and even listened to the same music!). I wonder if any young people now feel that way about SPONTANEOUS, or whether things have simply changed? I truly don't know.
For me, at this age, it's nice to see. Whether or not it's true to life, not having any villains to point to makes the story interesting. This one knows that you don't even need to have terrible or clueless parents to feel disaffected at that age. Mara's mom (Piper Perabo, WHITEBOYZ, ANGEL HAS FALLEN) and dad (Rob Huebel, THE OTHER GUYS) are actually extremely caring, non-judgmental, and understanding parents at all times. They're supportive and show her affection but if there's a possibility of them making some inspiring speech that would get through to her, they don't really know how to do that.
I'm a sucker for stories where characters try to be tough and stoic and keep their emotions inside, when it would be better for everyone involved if they could express them. I've always seen it as a behavior mostly taught to men, but the current season of Reservation Dogs has done a really good job of showing it as a generational thing, with the kids having to teach the elders how to open up about their feelings. Maybe the most famous and purest cinematic depiction of this theme, at least in the kind of movies I tend to watch, is in FIRST BLOOD. Rambo goes to war with an entire town over his mistreatment by the sheriff, but when he sees Colonel Trautman at the end he starts blubbering about losing his friends in Vietnam and lets it all pour out.
This may sound silly but one of the things I really loved about SPONTANEOUS is that it kinda has a version of that FIRST BLOOD arc. But Mara's method of bottling up her emotions isn't to act tought, it's to joke and keep an ironic distance from everything up to and including seeing peers explode right in front of her. Or right onto her. And the movie puts you in her shoes by setting you up to laugh at grim things like a grieving father sadly peeling the daughter from his stick figure family car window decals after the funeral. It's so sad but also so funny, and easier to deal with if you choose the path of laughing at it.
Early in the movie Tess asks Mara, "Have you cried yet?"
She just shakes her head. "Have you?"
"I cry all the time."
Mara's not like that, but when she finally does break down late in the movie she admits how much it all hurts, and it changes everything.
So it's a sweet, funny movie that's also harrowing and heartbreaking, a love story interrupted by screaming, hiding under desks, running covered in blood, facing serious loss, becoming self destructive. It's much darker than LOVE AND MONSTERS, much harsher about pain and grief and hopelessness, about how bad things can get (even without civilization collapsing). Yet it comes to a similar conclusion. You have to face that at least for now this is life and it's not fair and you have to find happiness anyway. Appreciate your loved ones while you're together, make friendships while you can, don't blame yourself, do what you need to to have fun and be yourself and be happy in the moment. As Mara says, "Bad shit is gonna happen. It's inevitable," but "I'm gonna be amazing, despite all of life's shit" and "I'm gonna live the life I want to have right now."
It's a beautiful movie. I'm not even gonna be cute and say "it's a beautiful movie about spontaneous combustion." It's just a beautiful movie.
p.s. Duffield's second movie as a director, an alien invasion movie called NO ONE WILL SAVE YOU, hits Hulu tomorrow, and I can't wait to watch it.