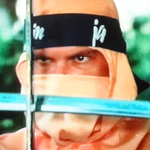 As I'm sure I've told you before, one advantage as well as disadvantage of the ancient tradition of the video store is that you find random weird stuff you weren't looking for and end up renting it. This is how I became aware of NINJA KILL. Two of the reasons I rented NINJA KILL:
1. It's called NINJA KILL
2: This is the cover: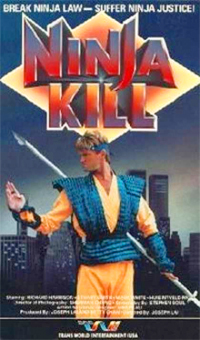 Note the tagline: "BREAK NINJA LAW – SUFFER NINJA JUSTICE!" Words to live by, in my opinion.
This is the story of Ninja Master Gregory (Richard Harrison, HIGHWAY TO HELL) and how one day he's sitting on top of a picnic table wearing a Hawaiian shirt and a friend from the ninja community comes to give him a tip about an impending assassination plot involving ninjas. He has to pay $5,000 for the information (interestingly he seems to be able to pay this with five bills) and then his informant is immediately killed by another member of his yellow-uniformed ninja clan.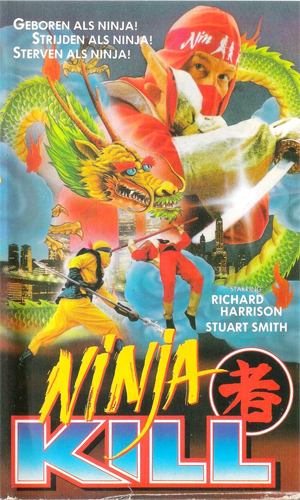 Gregory calls his friend David to follow the tip about a guy in Thailand known as "Cuba" who may be planning to kill a senator there. So David (who has a strong Australian accent) goes to gather up his dumb friends and their dumb friends to try to stop the assassination. He drives a tractor onto some property looking for Cuba, gets into a gun fight with his men, encounters a woman being assaulted by a bunch of yahoos and rescues her and brings her back to his place, confronts Cuba's guys again when they come looking for him, refuses to apologize, wins their respect in a knife duel, etc.
It is not a movie that holds women in high esteem. The bad guys are always trying to rape them. David's not into that, but when they come across some women being raped in the river his buddy smiles and ogles them. Later he tells everybody about it delightedly, talking about their "big tits." David is innocent of that, but every time he trusts a woman he ends up getting seduced and then waking up with a gun pointed at his head or something.
Hey, wait a minute. Wasn't this supposed to be about ninjas? It seems like Gregory called into a different movie and then just let it take over. Which is pretty much what he did! Every once in a while it cuts to a short bit about the white people ninja clans receiving a challenge from Gregory, or Gregory standing shirtless in a field by himself swinging a sword around and then throwing a throwing star.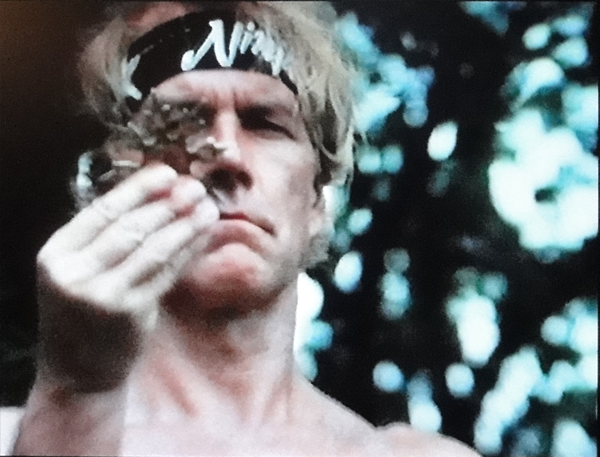 The score all seems to be stolen from other things (I even heard Kraftwerk in one part) and whatever they use for the ninja parts is enjoyably bombastic.
I know today we're more concerned about cultural appropriation and all that, but I don't know if I will ever stop being fascinated by the Caucasian ninja trend of the '80s. Middle aged white guys, sometimes with mustaches, who have been trained by or are leaders of ninja clans and involved in secret wars that are going on under our noses. The world you live in is just a sugar-coated topping.
I'm not sure any white guy could ever take credit for stealing this martial art, as people accuse, say, Elvis of doing with black music. I think the cat is pretty out of the bag about what country ninjitsu comes from. It's right there in the word. But are white guys responsible for adding more flair to the costumes? I'm not sure who started that, but I know in some of the AMERICAN NINJA movies and in this it's often the whites who represented various rainbow colored factions. Gergory here is the Purple Ninja Warrior (looks pink to me) and he's fighting against a guy in yellow with blue accessories. My favorite thing about their costumes, though – in fact, my favorite thing about the movie – is their headbands, which say "NIN" and "JA" on them. And then the difference is whether you wear the headband with just a blank space between the "NIN" and the "JA" or the type that has a little picture of a ninja. Or of two ninjas. I'm sure they each have a profound significance.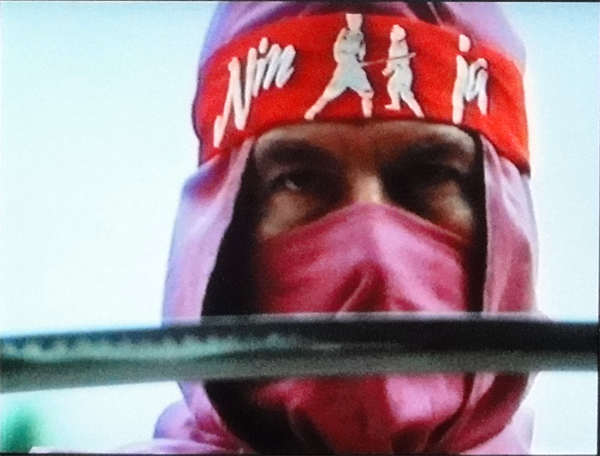 I'm not trying to make fun of it, either. I wouldn't necessarily turn down a headband that said "OUT" and "LAW" and had my logo in the middle. In fact, I should look into making that. I wear a belt that says "VERN" on the back, with pictures of bald eagles. I can respect ninjas for their flair.
Unfortunately about 95% of the movie is ninja-less. It's this interminable shit about David and Cuba in Thailand. I like seeing footage of dudes getting dressed up as ninjas and doing a bunch of ninja shit in a park, and the ending is delightful. Gregory and the Gold Ninja (I think) run to the top of separate hills to yell "NINJA!" before they duel. He defeats the guy (using a pair of cymbals!?), triumphant music plays, he does a back flip and disappears mid-air, and it says THE END. But it wasn't worth sitting through this other unrelated stuff for that. Even if there's kind of a funny car chase where they drive two commandeered sports cars in circles in the dirt.
I had no idea who he was until I looked him up, but Harrison is a Mormon from Salt Lake City who moved to L.A. as a teen and later married the daughter of James H. Nicholson of American International Pictures. He was a trained actor but spent much of his career in Italy after going there to star in THE INVINCIBLE GLADIATOR in 1961. He starred in the first Ennio-Morricone-scored western GUNFIGHT AT RED SANDS, but turned down the lead in A FISTFUL OF DOLLARS. Apparently he was the one who recommended Clint! Thank you, Richard Harrison.
Later he was in the Shaw Brothers movies THE FOUR ASSASSINS (as Marco Polo) and BOXER REBELLION, plus TWO BROTHERS IN TRINITY (which he also directed) and the Bruce Le movie CHALLENGE OF THE TIGER, before settling into Z-grade Filipino exploitation that he often wrote quickly under pseudonyms (when they were written at all). Bored of that, he went to Hong Kong to do some ninja films with director Godfrey Ho, who he knew as Chang Cheh's assistant director on those Shaw Brothers movies. What he – and I – didn't realize was that the parts he filmed in a few ninja movies would be chopped up and spread out across NINJA THUNDERBOLT, NINJA HOLOCAUST, MAJESTIC THUNDERBOLT, NINJA TERMINATOR, INFERNO THUNDERBOLT, NINJA HUNT, NINJA SQUAD, NINJA CHAMPION, GOLDEN NINJA WARRIOR, NINJA DRAGON, PROJECT NINJA DAREDEVILS, HITMAN THE COBRA, COBRA VS. NINJA, this, NINJA OPERATION: LICENSED TO TERMINATE, NINJA OPERATION 6: CHAMPION ON FIRE, NINJA COMMANDMENTS, NINJA: SILENT ASSASSIN, DIAMOND NINJA FORCE, NINJA OPERATION 7: ROYAL WARRIORS, THE POWER OF NINJITSU, NINJA POWERFORCE, THE NINJA SHOWDOWN, SCORPION THUNDERBOLT and NINJA STRIKEFORCE.
(Those are all real titles. I thought about adding a fake one as a joke, but it would be impossible to spot. Maybe NINJA AGENDA DOLPHIN: MISSION INFINITE.)
I don't know what the other movie was that they used footage from. I thought it would be something by the other credited director, Joseph Lai, but all of his directorial credits have "Ninja" or "Ninjitsu" in the title too. IMDb credits "AAV Creative Unit" for story, which seems to be the case for most or all of Lai's productions.
Anyway, buyer beware. This isn't the pure ninja shit, it's cut with strychnine. Only the ninja parts are very fun. I don't know if I can remember all those titles to avoid them, so I'll have to write them on the back of my hand before going to rent ninja movies.

This entry was posted on Thursday, February 1st, 2018 at 11:57 am and is filed under
Action
,
Martial Arts
,
Reviews
. You can follow any responses to this entry through the
RSS 2.0
feed. You can skip to the end and leave a response. Pinging is currently not allowed.