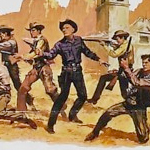 aka RETURN OF THE SEVEN
Six years after THE MAGNIFICENT SEVEN they got tired of waiting for a SEVEN SAMURAI 2 to remake and just went ahead and made up a new story called RETURN OF THE SEVEN (now available on video with magnificence added to the title). John Sturges was not involved. The director, Burt Kennedy, was a fencing double who became a writer with SEVEN MEN FROM NOW and then director with THE CANADIANS. He directed numerous westerns (SUPPORT YOUR LOCAL SHERIFF!, HANNIE CAULDER) but also the first version of THE KILLER INSIDE ME and the only version of SUBURBAN COMMANDO.
But the name on the credits that gave me hope was the writer, future under-recognized genius of horror, blaxploitation and suspense Larry Cohen. In fact, this was his big screen debut after some years in television, during which he created and wrote the western series Branded.
The opening, introducing the plight of another (or maybe the same?) Mexican village at the hands of another group of Mexican bandits (all of the men are run off into the desert at gunpoint) is dishearteningly dull. But this is our connection to the first film – Chico (Horst Buchholz), the young fighter who stayed to live in the village because he fell in love with Petra (Rosenda Monteros), is one of the men captured, so Petra knows to go try to find the great Chris Adams to help. (read the rest of this shit…)