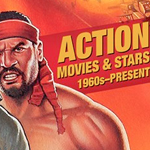 If you can make it to Dark Delicacies in Burbank on Sunday, please stop by and say hello. I'll be signing david j. moore's awesome new coffee table behemoth THE GOOD, THE TOUGH AND THE DEADLY along with david and fellow contributors Corey Danna, Mike Joffe, Jason Souza, Dustin Leimgruber, Duvien Ho and Keith Batcheller (cover artist). AND HOLY SHIT the action star and filmmaker special guests he has coming! The lineup has changed drastically (and is probly still subject to change) but check below for the latest info.
I think I only wrote five reviews in this thing, so david is the real man of the hour, but I'm very proud to be a small part of this incredible tribute and resource for my favorite artform. I'd also be happy to sign whatever else you want, and I'll have a few copies of Niketown and Yippee Ki Yay, Moviegoer in case you need to buy one. (I only have one Seagalogy on hand, so bring your own.)
A couple of the legends I was excited to meet are apparently not going to make it, but new ones have been added. Here is the updated and confirmed guest list I've been given:
Jino Kang
Julian Lee
Robert Chapin
And maybe some surprises. I hope to see some of you there. Even if I don't, check out this book. It's blowing my mind and I'm only in the Bs. Already there has been a motherlode of info on the AMERICAN NINJA series and an interview with the director of BLOOD AND BONE.