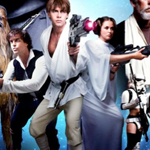 Please note, I will not be seeing the new Star picture until Friday night. I will be leaving the internet to seclude myself in the mountains or somewhere, hopefully to return with a review next week. I know some of you are gonna want to comment on it before then, so I made this post so you can use it and not some unrelated review where somebody might be reading the comments not wanting you to spoil FORCE AWAKENS for them.
But please remember that much of the world will not have seen the movie yet. Be honorable and not only try to avoid spoilers for now, but fill the beginning of your comment with a bunch of non-specific stuff so there is nothing even remotely midly almost spoilery in the "recent comments" thread. WE DON'T WANT TO FUCKING KNOW. Be nice.
"Patience my young padawan learner, be mindful of I have a special set of skills give me the fucking elephant." –Qui G. Jinn
Happy Boonta Eve everybody and may the force awakening you! (that's from Star Wars)
This entry was posted on Thursday, December 17th, 2015 at 12:27 pm and is filed under
Blog Post (short for weblog)
. You can follow any responses to this entry through the
RSS 2.0
feed. You can skip to the end and leave a response. Pinging is currently not allowed.