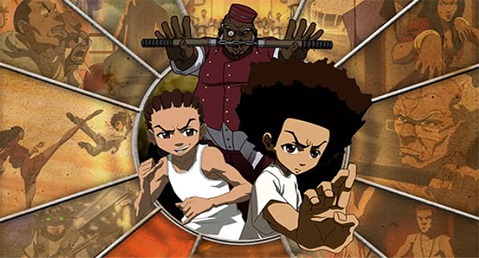 THE BOONDOCKS is finally returning for season 3. It starts tonight at 11:30 on the Cartoons Network. It's been a couple years since season 2 so that makes this the first Boondocks episode of the Obama age. I don't know if he was kidding or not, but a mass email from a guy who works on the show claims this episode is about Werner Herzog (!?) looking back at the 2008 election from the future.
UPDATE: it was an interesting if uneven episode, but holy shit, they got the real Werner Herzog (BAD LIEUTENANT: PORT OF CALL NEW ORLEANS) to narrate. Also they have the best Obama impersonation I've seen anybody do so far.
This entry was posted on Sunday, May 2nd, 2010 at 6:24 pm and is filed under
Blog Post (short for weblog)
. You can follow any responses to this entry through the
RSS 2.0
feed. You can skip to the end and leave a response. Pinging is currently not allowed.