One day several years ago I was waiting for a bus near a book store, and in the window there was a book about the philosophy of THE MATRIX. There's more than one book like that, and I can't remember which one it was that I saw that day, but it got me thinking: there should be a book like that, except it's entirely about THEY LIVE.
There's a long-running series of books called 33 1/3, little pocket-sized book length essays about classic albums. I have one for Stevie Wonder's Songs In the Key of Life, for example. And I've long thought there should be a series like that for movies, and I should write the one about THEY LIVE.
Well, too late, buddy. Soft Skull Press is starting a series just like that, although if I understand correctly they're all gonna be written by novelists. #2 is on DEATH WISH, #4 is gonna be LETHAL WEAPON. THE STING, HEATHERS and THE BAD NEWS BEARS IN BREAKING TRAINING are also coming up, but it all starts with THEY LIVE by Jonathan Lethem, author of the novels Motherless Brooklyn and The Fortress of Solitude. His approach is very different from what I would've done/could still do some day, but it's an interesting, quick read and makes plenty of points that I hadn't thought of before, making it a good first book about this particular subject.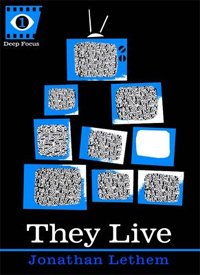 I like the format he uses, one that seems obvious but somehow I've never seen before for a movie essay. He starts by explaining basically where he's coming from on the movie ("I genuinely like THEY LIVE") and what some of his terminology is gonna be (for example he calls the aliens "ghouls" since that's what they're called in the credits). Then he proceeds chronologically through the movie starting at (0:00) and marking each little chunk of essay with the time code so you can follow along at home.
He's coming from a different point-of-view than most of us here. He's only a part time John Carpenter fan – he likes THE THING, DARK STAR and ESCAPE FROM NEW YORK but says he had to "labor" just to find HALLOWEEN and ASSAULT ON PRECINCT 13 "interesting." He talks about Keith David as a not-quite-recognizable character actor with a career of "half memorable roles," which is probly true for many people but to us he's a legend just for this, THE THING and arguably MARKED FOR DEATH.
Lethem also uses words like "metatextual" and "diegesis," and his references range from LAST YEAR AT MARIENBAD to Frederick Wiseman, "text art," William Eggleston, Philip K. Dick, and at one point he describes the movie as having "a theatrical-allegorical quality, like a Beckett play or a Budd Boetticher western…" I definitely think some people will consider some of these comparisons "pretentious," and the thought definitely crossed my mind at times. But honestly I kind of like that about it. I think by talking about this great John Carpenter/Roddy Piper sci-fi 'n wrestling movie alongside the hoity-toity, the respectable, the academic and the holy god damn that is one beautiful looking movie that I will never, ever be able to watch even half of without falling asleep you are asserting that yes, fuck you but in fact this movie is worth discussing and not laughing at.
I think THEY LIVE is more accepted by the mainstream than Seagal is, but that's kind of what I tried to do with Seagalogy. I tried to be a little academic (as much as I know how, anyway) and had completely unnecessary footnotes because I thought it was kind of funny but also just correct. I believe these movies do have something to offer besides a punchline that some smarmy dickhead can wisecrack about on a VH1 list show, so I'm gonna mention them in the same breath as things that those dicks would be angry that I would mention them in the same breath as. That's just how my breath rolls. So I'm in favor of this approach.
Lethem also makes a lot of comparisons to classic cinema: DOUBLE INDEMNITY, THE SEARCHERS, STRANGERS ON A TRAIN, DIAL M FOR MURDER. He reads a few shots as references to Hitchcock, including the overhead shot of Holly hitting Nada with the wine bottle, which he compares to that great overhead shot from PSYCHO. That might be kind of stretching it, but it's worth considering I guess. He's also aware of Carpenter's love of Howard Hawks, and makes some interesting points about that.
It's not worshipful. He points out some possible contradictions or hypocrisies of the movie that hadn't really occurred to me before. For example he notes that movies like this or ROBOCOP often criticize TV but let movies off the hook. Lethem wonders what would happen if Nada looked at a movie marquee wearing the glasses. What sort of "it figures" bullshit would the ghouls be trying to brainwash us with there?
He also sees a contradiction in Carpenter believing Piper has more authenticity as this character than some Hollywood leading man would. After all, aren't wrestlers just actors too? They make their living faking and playing characters just like actors do. But of course that ignores that Piper is "real" in the sense that wrestling really is a painful, physically and mentally demanding job, that he really does have to be a tough guy to do it, that part of it is not a role. And in his autobiography In the Pit With Piper: Roddy Gets Rowdy (Includes Color Photos) Piper talks about his early wrestling days when he would sleep in a park, or live in a guy's gym for a while, or rent out a lady's porch in Winnipeg. So he could relate more to Nada's homeless drifiter lifestyle than most actors. Although there is that whole thing about Matt Damon and Ben Affleck sleeping on people's couches. I guess it depends on which actor would've played Nada if it wasn't Roddy Piper.
Of course the politics of THEY LIVE are the main reasons it's so legendary, the way it finds a cool sci-fi metaphor for a point that has such a strong ring of truth to it, where we completely agree that "it figures it would be something like this." Obviously being released in 1988 it was commenting on the Reagan years, but many of us saw it reflected again in the Bush years, and now I think there are Reaganites who are able to see it in today's post-Wall-Street crash, post bail-out atmosphere and not connect it with "trickle down economics" and all that shit. I guess it doesn't matter which side you're on, you're still gonna see the other side as friends of the rich and all that. Unless you are the rich, which you're not.
Lethem of course goes into the politics and talks about the context of the time it was made. For example he compares the police raid on Justiceville sequence to the Tompkins Square riots that took place in New York between the filming and release of the movie. He mildly criticizes what he sees as a cynicism about unions and misogynistic tendencies (mainly because alot of the ghouls Nada singles out and insults are women, I'm not sure I agree with this). He seems to overall see it as a left wing message though.
I think Lethem's best insights in the book are the questions he brings up about ghoul civilization, their motivations and how it all works. If the magazines and newspapers are propaganda for brainwashing humans (OBEY, MATE SPAWN AND DIE, etc.) then why is one of the ghouls browsing the newsstand? Or one watching TV in a bar? Do they see what we see, or do they see the "OBEY" signs, or some special ghoul channel that we can't see where they actually tell the truth? Lethem theorizes that maybe they like becoming a part of this made up world, it makes them feel important, makes them feel human. Maybe it's like Joe P. in THE MATRIX, they would rather live in this happy (for them) fake world than the real one. After all, Lethem points out that there's still some amount of ranking in ghoul society that could cause bitterness and resentment. Not everybody is the politician making the speech or the ladies in the fur coats. Some of them have to be cops.
One weak point that Lethem hits on several times is a supposed "gay porn" feel or homoerotic subtext. I don't give a shit if something really is gay, but I think this one is a dumb and hopefully obsolete cliche of action movie dissection and criticism. Like back when John Woo was still in Hong Kong the American critics always claimed his movies had the "homoerotic undertones" or whatever. Sometimes they threw this at the action movies as an insult, they assume that the macho individuals who are in action movies and who enjoy them are homophobic and that the ultimate way to show them a thing or two is to point at them and say ha ha you don't realize it but actually you are gay, ha ha and then run away and hide behind a bunch of books in a library, panic room or secret nerd cave. In the case of the John Woo characters or Nada and Frank I actually think this line of thinking is kind of offensive. I guess what I'm about to write will be accused of having homoerotic undertones itself, but oh well. I know it's pretty much the prevailing world view now, but I disagree with this idea that there's something unusual or wrong about men being friends or respecting each other. You respect a man so you gotta call it a "mancrush" or say that you're "gay for" somebody when really what you mean is that you admire them or want to be like them, not that you actually want to fall in love with them and be their life partner. Everything in this society has to be about fucking, so according to this view Nada and Frank can't just be a couple of dudes who met on a construction site and fight aliens together after beating the shit out of each other in an alley, it all has to be symbolic of fucking each other. I don't think there's really anything to this type of argument, it's just a corny and overused attempt at some kind of shock value or something.
On the other hand he has a point that when they check into a hotel together Nada says "Ain't love grand?", as if pointing it out himself. Oh well. Lethem doesn't make a huge deal about it really, I just wanted to bring it up because it's one point I disagree on.
My biggest problem with the book would have to be its wishy-washy, fence-sitting stance on what is obviously the crucial scene of the whole movie, the legendary alley fight scene. Lethem starts that chapter with opposing quotes from others about the brilliance or wrongness of the scene. Instead of taking a stance himself he begins, "How to legislate between these great constituencies: those who love THEY LIVE for the fight scene, and those who love it despite the fight scene?" If he really was a legislator we'd call this triangulation or equivocation. He doesn't pick a side, not wanting to offend anybody.
Not trying to start an alley fight, but I think for years a whole lot of people have just been plain wrong about this scene. In recent years the conventional wisdom has turned around on it somewhat, but it used to be laughed at and made fun of and people thought it didn't make sense that these two guys are fighting so long over a pair of sunglasses. But of course the absurdity of the length is the whole point. The sunglasses aren't just a stylish way to protect your eyes from UV light, they are a window into what's really going in in the world. They are The Truth. And Frank, who initially seems more cynical about the world than Nada, flat out refuses to see The Truth, to the extent that he will actually continue this painful knock-down drag-out fight on concrete with his good buddy for much longer than standard protocol for a movie fist fight for any purpose. On one hand it would be so easy to just put on the damn sunglasses. On the other hand it would change everything. These are the lengths people will go to avoid having to see The Truth.
If Lethem didn't understand that I probly would've gone on and written the book I had planned, but he does cover that angle at least in quotes from this philosopher guy Zizek. I've heard of that guy but didn't know he loved THEY LIVE so much. I'll have to look into that.
And at least Lethem points out that Piper's shirt never comes untucked during the fight. I think that's a good point. Also he mentions that this couldn't really be the longest fight in cinema history if you include Tom and Jerry cartoons. (I figure there's gotta be plenty of kung fu movies with longer fights too.)
The book doesn't really come to any kind of ultimate conclusion, which feels a little anticlimactic. But it does build on a number of themes throughout, speculates on the logical conclusion of some of the concepts and ideas of the story and makes you look at the movie from a number of interesting angles and contexts. It's not gonna knock your socks off like the movie itself, but it's a good read about a movie that deserves this sort of honor. I recommend it.
.
.
.
note: the covers of this series are cool but seem to owe a debt to by this same dude here. (Thanks T. Hodler for correcting me there)
and for some reason I can't get the fuckin Amazon link deal to work here, but if you're gonna buy this from Amazon please consider going through my Crassly Commercial Amazon Links (CCALs) to the right. You could get this book, the DEATH WISH one, the THEY LIVE dvd, even the THEY LIVE 20th Anniversary Edition soundtrack. Or not. thanks. OBEY
This entry was posted on Saturday, November 27th, 2010 at 3:05 am and is filed under
Blog Post (short for weblog)
. You can follow any responses to this entry through the
RSS 2.0
feed. You can skip to the end and leave a response. Pinging is currently not allowed.