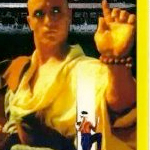 As you all know, I'm a fan of movies where the title is "AMERICAN" and then an Asian word. AMERICAN NINJA, AMERICAN SAMURAI, etc. So AMERICAN SHAOLIN is obviously on my radar. It's another one written by Keith Strandberg, who did the NO RETREAT, NO SURRENDER series (this has sometimes been labelled as part 5, since they're not really connected anyway). It's also the first role for Daniel Dae Kim, who went on to be on Lost, 24, Hawaii 5-0, etc.
I haven't actually found it yet, so I haven't seen it, but I bring it up because this guy Anatolij contacted me about it. He's such a fan of the movie that he's trying to start a record company just to put out the soundtrack. These are the types of dreams I believe in, so I'm doing my part to spread the word. I think he's just looking for people to put on a mailing list to prove there is interest in a soundtrack and, more importantly I imagine, a Blu-Ray.
Anatolij also writes, "Apart from the AMERICAN SHAOLIN soundtrack, I want to make a community of cool soundtrack fans, who are interested in supporting other underrated unreleased soundtracks. There are some fans who have soundtrack wishes, and I think it would be pretty cool to have a good support base. A CD costs not a lot, and if you can support a release with that, that's a great thing."
So check out Spirit Touch Records and spread the word if you know people who would be interested.
This entry was posted on Friday, July 31st, 2015 at 2:04 pm and is filed under
Blog Post (short for weblog)
. You can follow any responses to this entry through the
RSS 2.0
feed. You can skip to the end and leave a response. Pinging is currently not allowed.