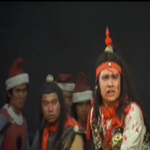 I just want to wish everybody a safe and happy Christmas, or eating of Chinese food, or watching of THE INTERVIEW at an independent theater, or driving a city bus, or other. I really want to thank everybody for all the support and fun this year, I really appreciate it. I guess it's not New Year's yet, I can get mushy then, huh? I'll be back next week with some new reviews. Go watch a Johnny Cash Christmas special.
p.s. Special thanks to Jan Elvsén for sending me a Christmas CD he made. It has everybody from Diana Ross to Shonen Knife on it.
This entry was posted on Thursday, December 25th, 2014 at 12:01 am and is filed under
Blog Post (short for weblog)
. You can follow any responses to this entry through the
RSS 2.0
feed. You can skip to the end and leave a response. Pinging is currently not allowed.