After watching the whole HOSTEL trilogy I felt like I had to watch something a little happier, and preferably with less torture, although that's not necessarily a dealbreaker. Well, it just so happens that three great filmmakers of the '70s – Martin Scorsese, George Miller and Kermit the Frog – have released new PG-rated family movies in recent weeks. So somehow I ended up watching them. And you know I am hesitant to spend too much time on puppets and cartoon animals and crap like that, but honestly these movies all have a little something to say, a little more going on beneath the surface than alot of the ones they make that are supposedly for grown adults. Maybe puppet movies and cartoons are just such a pain in the ass to make that people figure if they're gonna do one they should try to make it worthwhile. Although that wouldn't explain the Chipmunk movies.
Let's get THE MUPPETS over with first, since I figure most of the Muppet-positive or Muppet-curious individuals have already seen it and gone over most of what there is to discuss. The main thing about this movie is there's a little part where Amy Adams and Rashida Jones are in the same room. In that sense this movie is a landmark and hopefully will be very influential.
It's also about the popular performing puppet collective The Muppets (THE MUPPET MOVIE) and is a love letter to their movies, TVs, etc. thought up by star/writer Jason Segel and successfully marketed as a cool new take on The Muppets for a new generation. At some point though they remembered that "new" is not a concept that has been introduced to this generation yet, so they switched to the ol' nostalgic-look-back-at-shit-that-already-exists type of approach. Segel and his out-of-his-league girlfriend Amy Adams are planning a romantic Spring Break trip to L.A. for their anniversary, but Segel insists on bringing his brother Walter, an obsessed Muppets fan, to tour the legendary Muppet Studios lot.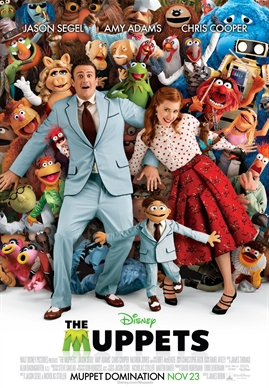 The only thing the two brothers have in common is that they both wear wacky out-of-fashion blue suits. In a nice touch of absurdity Walter is played by a puppet, and nobody seems to think that's weird. But that means he has this whole "where do I belong?" dilemma they always have in these family movies. The being-a-puppet part I can dig, but I don't really get why he's such an annoying weiner. He grew up with Segel, they're supposed to be about the same age, but Segel always lovingly calls him "buddy" like he's taking his son to his first ball game. Not since MUAY THAI GIANT have I been so confused about whether or not a movie character was supposed to be mentally disabled.
Why can't he just be a dude who happens to be a puppet? Why does everybody have to handle him with kid gloves? Did they cut out a part where he only has a few days to live and nobody told him yet? And why is his only trait his fandom? No offense to Headgeek, but in my opinion the nerd community has to at some point move beyond this "I have a deep personal connection to this, because my mom bought me a lunch pail of it" mentality. Yeah, all kinds of people liked all kinds of stuff when they were kids. Some kids grew up loving trains, or dinosaurs, or eating boogers, or watching Veggie Tales. Hopefully they got more going on in their souls than just what toy they liked best.
So the beginning of the movie is about worshipping the Muppets, then they track down Kermit, who is living alone in a dusty mansion. Turns out the Muppets don't speak to each other, and even Miss Piggy is gone (I bet you ten bucks that bitch cheated on him). But due to a contract they signed if they don't raise a million dollars an evil oil baron (Academy Award winner Chris Cooper) is gonna own the name "The Muppets" and destroy the theater where the Muppet Show was filmed. And I guess it's too late to apply for historical landmark status. So the humans and the weenie puppet help Kermit reunite the old gang for a fundraiser show.
I've been kinda picking at some things I didn't like about the approach, but it's a highly enjoyable movie. There are alot of funny jokes and good original songs and a sweet attitude. Some have complained that there are too many humans in it, but these are pretty good humans. Amy Adams sings a song called "Me Party." I don't know why that's allowed, but I approve. Ironically back in 1999 it was a "me party" scene that caused Rupert Murdoch to personally cancel the airing of her TV series Manchester Prep (it was later re-edited into CRUEL INTENTIONS 2):
I just wish THE MUPPETS wasn't about referencing the previous Muppet works. Yeah, it's cute to see them singing the rainbow song again, but isn't the old version available on DVD? I think it is. I could just watch that I bet.
What saves the day is a great, unexpected ending where (SPOILER) nobody saves the day. Our guys don't end up raising enough money, in fact not even close at all. When the credits start rolling they've "lost," Chris Cooper owns the theater and the name "The Muppets." But Kermit tells everyone that it doesn't matter. That's just a trademark, a likeness, a building. It's a property, a franchise, a likeness, a trademark – that shit's for soul-less industry knuckleheads and their lawyers to concern themselves with. Basically, the guy owns all the logos on Walter's lunchboxes and Pee-Chees and shit, but he doesn't own the actual guys in the pictures or the heart and soul that they pour into the work, the stuff that made Walter make his parents buy all that stupid crap for him. So the Muppets realize they haven't lost what's important, in fact they've regained it by having this reunion. They go outside and they're swarmed on the streets by all the fans who love them even if they can't legally call themselves Muppets™®©2011 Chris Cooper Industries anymore.
It's a smart ending that works on multiple levels. It says that it doesn't matter if Disney owns The Muppets now, or if Taco Bell owns them tomorrow, it doesn't even matter if you think this "new take" on The Muppets sucks, 'cause the version that you love and that you consider pure is still on record and will always be "the real Muppets" to you, regardless of the official corporate stance on the subject. It's acknowledging that those movies really meant something profound to Jim Henson and the rest of those hippies and that that meaning is what's important to people.
Of course, now word has gotten out about an alternate ending where they do raise a million dollars and don't have to have any of these realizations. True to form, many nerds say that the substance-free ending would've been better, and they blame the big corporation for ruining everything. So maybe it is the pajamas and pencil erasers and shit that's important to some people after all.
This entry was posted on Sunday, December 4th, 2011 at 2:23 pm and is filed under
Comedy/Laffs
,
Family
,
Reviews
. You can follow any responses to this entry through the
RSS 2.0
feed. You can skip to the end and leave a response. Pinging is currently not allowed.