SYNECDOCHE, NEW YORK is the most complex and convoluted movie that worked that I've seen in a long time. I loved it and you might too. But there's also a good chance you're not on its wavelength, and in that case it will be torture, like me watching WAKING LIFE.
P.S. Hoffman plays Caden, a guy who directs plays. He's fat, unhappy and uninteresting and his wife (Catherine Keener) is obviously miserable. The opening is so mundane it's almost hard to translate as a movie: he has trouble getting out of bed, reads the newspaper, mumbles to his wife that Harold Pinter died, they have sort of a conversation but aren't listening to each other. It's kind of nice that it begins so uncinematically mired in normal life, because as it goes along it becomes more and more fantastical.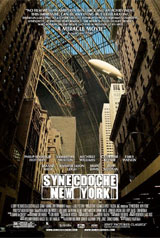 Eventually he gets a MacArthur grant (man, I gotta get me one of those), which he uses to fund a giant "play" – a recreation of New York where "no one is an extra." He spends his life preparing this play, recreating his life. The play and the life quickly become confused. The guy playing him falls in love with his old flame instead of the actress playing his old flame, he gets jealous and dates the actress, but keeps talking to her about her character, which means he's talking to her about the other woman. That kind of stuff. His second wife is in the play, at one point playing herself, in a fake apartment with her daughter, Caden directing her as she tells her daughter daddy can't play because he's too wrapped up in his work, and nobody knows if it's the play or reality or both.
Charlie Kaufman is known for pulling off impossible sounding movie ideas like this, but for his directorial debut he throws in more. When Caden's auditioning an actor to play himself he finds Sammy, who explains that he has never acted before but is perfect for the role because he's been following him around spying on him for 20 years. When his assistant Hazel is looking for a house she buys one even though it's on fire – it stays that way throughout her life. She bought it as-is, I guess. When his wife takes their daughter away to Germany he only finds out about her by reading her diaries, which we hear in an increasingly older and more German-accented voiceover. One of Caden's many diseases causes his tear ducts not to work, so in one equally heartbreaking and hilarious moment he gets sad and puts artificial tears in his eyes to cry. It's just great concept after great concept.
It's kind of the anti-SOUTHLAND TALES. Both feel like 3 journals worth of ideas crammed into one movie, but with this one, for me anyway, they all seemed to fit together properly into a nightmare portrait of what it feels like to be miserable. The world of SOUTHLAND TALES felt like post 9-11 America to me but it seemed like the plot meant nothing and the characters were talking gibberish just to be weird. Somehow this is more focused.
But believe me, it's challenging. I don't mean that in a pretentious way, it's just true. It required effort on my part to keep up, especially toward the end. It definitely would make more sense after watching it a couple times. How else can you fully wrap your mind around Diane Weist as the actress playing a cleaning lady based on a painting by Caden's ex-wife but who volunteers to take over playing him within the play and then from within the play begins to give him directions for how to act out his real life? I mean, it's complicated.
I should also point out that the movie is sad, sometimes so sad it's funny. That's a rare type of funny so I appreciate it. I don't know, maybe it's best I didn't see this in a theater because I couldn't stop laughing during the scene where he gets a late night call that his father has died and then reiterates the call to his wife. There's no mercy, no comfort, no "he died peacefully in his sleep," just an endless list of miserable circumstances including "they said it was the longest, saddest death bed speech they ever heard."
The great irony is that his work is so self-indulgent but it's not clear when he lives his actual life. He's always sick and in constant fear of dying. He's crushed by the deaths of his parents, but we've never seen them so they must not be that important to him on a day-to-day basis. He obsesses over his first wife who is absent for most of the movie except in notes (usually not intended for him). He does try to find his daughter but never gets to talk to her until she's on her deathbed, where she gets him to confess to something he never did, then refuses to forgive him for it. In between miseries he spends his time trying to document that misery in his play.
But it's not like a Lars Von Trier picture or something. It's bleak as hell but there are plenty of laughs and constant inventiveness. Voiceovers of notes include coughing and typos. He's haunted by images of himself in cartoons, movie posters, pharmaceutical ads. He hangs out with Sammy, the actors who plays him in the play, so Sammy-as-Caden hangs out with another actor playing Caden. It's gonna be too much for some people but if you like this stuff and you're in the mood for a feast, get ready. There's really no other movie like this one. These days you see a few movies that seem like they're working from "Charlie Kaufman" type premises. STRANGER THAN FICTION and the new COLD SOULS come to mind. But I can't imagine anybody being able to copy this one. Nobody else could think of this shit.
If you read all the movie websights like I do you might remember a while back there was a rumor that Spike Jonze and Charlie Kaufman were working on a horror movie. Well, this is what that was. Kaufman was writing about what he considers scary, which I guess includes the mysterious deterioration of the body, the abandonment of your family and the temptation to bury your life in self-absorbed artistic statements about your life. I guess I'd rather watch TEXAS CHAIN SAW MASSACRE on Halloween but this is a good one too.
This entry was posted on Saturday, August 29th, 2009 at 3:48 pm and is filed under
Comedy/Laffs
,
Drama
,
Reviews
. You can follow any responses to this entry through the
RSS 2.0
feed. You can skip to the end and leave a response. Pinging is currently not allowed.