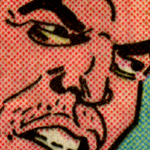 I got interviewed on a websight called The Vulgar Cinema, if anybody's into that sort of thing. I talk about movies and what not.
2004 Summer Flashback pieces and other reviews are in the works. Have a good weekend everybody.
This entry was posted on Friday, August 16th, 2013 at 12:37 pm and is filed under
Blog Post (short for weblog)
. You can follow any responses to this entry through the
RSS 2.0
feed. You can skip to the end and leave a response. Pinging is currently not allowed.