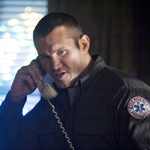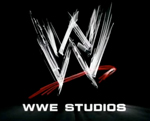 This is the magic of the prestigious WWE Studios banner: it can force a franchise into existence. 12 ROUNDS was one of their better theatrical releases, a straightforward but solidly executed take on a well-worn gimmick: the hero (WWE Superstar John Cena) is forced to play a deadly game by a devious mastermind (The Wire Superstar Aiden Gillen) who blames him for the death of his wife. The game is of course divided into 12 rounds (if the villain was into video games it would be 12 LEVELS) where he has to drive around town doing things before a timer winds down and something blows up or something. The action is largely handheld but still clear and exciting because the director is Renny Harlin. And that gives you the handiest description of the movie: a rip-off of DIE HARD 3 by the director of DIE HARD 2.
I liked it, but did anybody else? It looks like it didn't make much more than half of its budget in theaters. I'm sure it did better on video, but it's not all that well known, is it? Luckily that doesn't stop WWE Studios from DTV-sequelizing like they did with THE MARINE. It's like a self-fulfilling prophecy. If there's a part 2 then part 1 must be significant, right? And you don't have to watch both because it's not connected. It's some other wrestler playing some other character and some other villain with some other grievance, playing some other deadly game. But coincidentally with 12 rounds again.

Randy Orton is the WWE wrestler who got dishonorably discharged from starring in THE MARINE 3 when the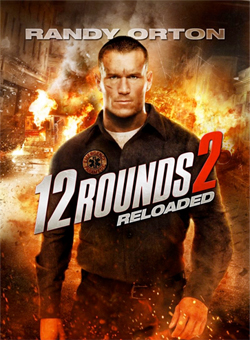 actual Marines complained that he got dishonorably discharged from them, so he was re-assigned to this other DTV-sequel-to-a-theatrical-release-starring-John-Cena. This one is directed by Roel Reine, who did the very good THE MARINE 2 (plus Seagal's PISTOL WHIPPED) and alot of other pretty decent DTV sequels. I know that you know I mean it as a compliment when I say that Orton kinda reminds me of The Boz, a big muscle guy who tries to be kinda rebellious (with his tattoos and everything) but is likable for his old fashioned square-jawed, wholesome vibe. He plays Nick, an EMT who happens to witness a serious car accident one night while leaving an unnamed "chick flick" with his wife (Cindy Busby). He runs over and tries to help, and this will get him entered in the deadly game. A year later this smarmy bald guy (Brian Markinson) starts talking to him over phones or computer screens, watching him over security cams, making him jump through a bunch of hoops (not literally) and he's not allowed to talk to the cops.
Nick's wife is being threatened, so he'll do anything the guy tells him to, even if he doesn't say "simon says." This includes but is not limited to busting into a hotel room and abducting some dude named Tommy (Tom Stevens), and running up to a bunch of cops with their guns out and beating the shit out of them and stealing their car and then leading a whole bunch of other cops in a high speed chase and shootout. So, you know, things get dicey.
Eventually he figures out that (SPOILER) this all has to do with that car accident. Turns out it was a DUI and Tommy was the driver. There was a fatality and yet here Tommy is, recently out of rehab, not in prison. His got-off-too-easy odor attracted hungry revenge. It just so happens that this vengeful gamemaster guy must've gone to the same engineering school as Jigsaw. He's not as big on torture, but he shares the same talent for ridiculously elaborate pre-planning. Also he has a similar toxic bitterness.
There are a few good character moments. There's a good bonding laugh between Nick and Tommy during a tense moment, but my favorite is when Nick finds out about the DUI and is incensed about it. This guy he has to work with knew he fucked up, he got a lady killed, but he weaseled out of being punished. It seems like Nick would be open to the "I made a mistake, and I'm sorry" part if the motherfucker had faced the music. But he didn't, so Nick yells at him. I'm sorry to bring this up, but I couldn't help but compare this to the recent George Zimmerman verdict. You make a mistake you're gonna regret for the rest of your life, you should admit what you did, not find a way to slime your way to undeserved freedom. And if you can't do that then cry me a fuckin river when you have to live the rest of your life as a pariah or when Jigsaw's frat brother comes after you and buries your dad alive in sugar (long story). You had your choice, and you made it.
The action is middle of the road. Not bad, not as good as THE MARINE 2, not nearly as exciting in the bigger budget first one. But I think Orton's punching and wrestling moves work well and he has a good presence. I like him.
Writer David Benullo is kind of mysterious. He wrote that Jackie Chan version of AROUND THE WORLD IN 80 DAYS and a couple horror movies, but also a couple Indian movies (RA.ONE and KRRISH 3). That would be cool if he worked some crazy Bollywood shit into this one. Maybe he's saving that for part 3, THE 12 ROUNDS REVOLUTIONS.