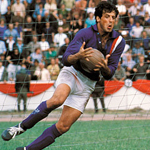 VICTORY is a 1981 John Huston film that combines a LONGEST YARD type game-between-prisoners-and-guards story with a GREAT ESCAPE type story about escape greatness. It all begins when Sylvester Stallone, a Canadian prisoner in a German WWII labor camp (I thought American, but apparently he has a maple leaf on him somewhere), loses control of his soccer ball. It rolls over to Max Von Sydow, a Nazi officer who starts showboating by foot juggling it even though he's wearing his big Nazi boots, and he kicks it over to Michael Caine, a British prisoner who was a pro footballer/soccerer before the war.
That one casual sporting exchange is historic because it starts up the conversation that leads to the deal: the best players from among the Allied prisoners will play an exhibition game against the German national team. For the Nazis it's good propaganda at the end of a war that, let's face it, did not improve their country's image on the international stage. For the prisoners it's an opportunity to plan an escape.

I'm a little confused about the time period. I could swear they say the war is over, but some of the things I've read about the movie don't seem to say that. Whenever it is there are still Nazis, they still occupy France, they still drape big swastika flags on the stadium. I guess the transition is still taking place, but our boys are desperate to escape. They explain that the labor camp prisoners haven't been acknowledged as prisoners. They have to negotiate their way into the match. I guess they're not gonna get released for a long time due to bureaucracy?
Stallone has to talk his way onto the team too. He's initially not allowed because he pisses off Coach Caine with his aggressive, non-gentlemanly North American style of playing. But after the big game causes security changes that spoil his own escape plan he kind of bullies his way into the role of team doctor, then gets promoted to goalie.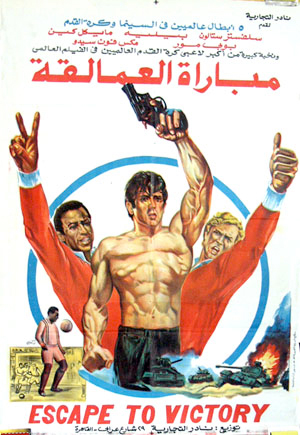 The music is by ROCKY's Bill Conti, and it's produced by Andrew Vajna and Mario Kassar, who would go on to produce the Rambo series. (This was their second movie, they'd only executive produced THE CHANGELING.) And Stallone is pretty much the main character, but despite all that it doesn't feel like a Stallone vehicle. It feels like a British production, very polite considering who the bad guys are. It's kind of weird, it just treats them as rivals instead of as fucking Nazis. In THE LONGEST YARD the prisoners are playing against the guards, so the appeal to them is being able to beat the shit out of the screws that usually beat them. This game is very professional, and it's against the German national team anyway so you don't know if they were kinda forced into it or what. Maybe they're nice guys.
The Nazi officers don't go further than normal sports movie bad guys, either. They don't even try to cheat or play all that rough. They just add fake applause to the radio broadcast to make it seem like the crowd supports their team. More pathetic than evil.
Caine's character is interesting because he's a prisoner and he's put together this game which will be more fun than sitting around doing nothing. But then he's in a spot because everybody's pressuring him to do something bigger with it, like plan an escape. He doesn't want to be responsible if they try that and get killed. He doesn't want to be involved. He just wants to kick a ball. I'm torn on what I think about that. Part of me respects it and part of me wonders what the hell his problem is that soccer can be the most important thing to him at a time like this.
I think most of the players are real soccer pros from the era. The Brazilian legend Pele (honestly the only player I could name besides Jacko, Vinnie Jones or David Beckham) is on the Allied team, and gets a special "soccer plays designed by" credit. (Yes, it says "soccer," so I assume it's really an American production. Or maybe it only says that on VICTORY. Everywhere else they call it ESCAPE TO VICTORY, and maybe they call it football in that version.) I think they just tried to play hard and film some highlights, sometimes in slo-mo. But there's a big part where Pele does his famous show-offy bicycle kick where he flips and kicks the ball while upside down. That's cool.
I'm gonna SPOILER a major plot turn here. During half time the team plans to escape through a tunnel built by the French Resistance. But some of them say "We can win this!" and decide not to go. Stallone knows it's stupid but he can't really escape on his own. This is a nice sportsman notion, but somebody's gotta tell them that one of the things that's more important than winning is escaping from a fucking Nazi prison. I think everybody would forgive you for forfeiting this match. Maybe they think it's a good thing to do to give hope to the people or something, but 1) at half time it really doesn't look like they have a chance, it's only underdog movie formula that makes it possible and 2) they don't even end up winning, it's a ROCKY type victory where they come from behind to tie it up. But I like how things turn out.
Maybe the most unorthodox thing in the movie is Von Sydow's Nazi with good sportsmanship. He's the only one in his section who claps for Pele's kick. I get the idea he was completely sincere in wanting to see a good, competitive game, and not just a German win. He seems pleased with the Allied team's achievements. An honorable or won-over bad guy like that is normal in movies, but, again, not one that's a fuckin Nazi. That's pretty weird.
Despite this slightly odd auproach, or maybe a little bit because of it, it's an enjoyable movie. Stallone is good, playing one of those kinda stubborn but well meaning lunkheads he's good at playing. It's definitely no THE GREAT ESCAPE but it's a solid watch-with-your-dad-or-son-on-a-Saturday-afternoon type of movie.