I read about movies alot, and I come across these articles all the time about "are critics relevant anymore?" I read about veteran critics being laid off and about movies not being screened for critics and I see comments all the time from people who don't seem to understand what the point of criticism is, people who claim to love movies but to hate critics. I read interviews where filmatists dismiss the role of critics. They're people who grew up obsessed with movies, but not enough to, like, read words and shit about them. You'd think they'd want to devour other people's interpretations of movies and find out about movies they never heard of or revisit old favorites from different angles. But nope. They hate critics.
I thought about all that stuff when I came across this logo: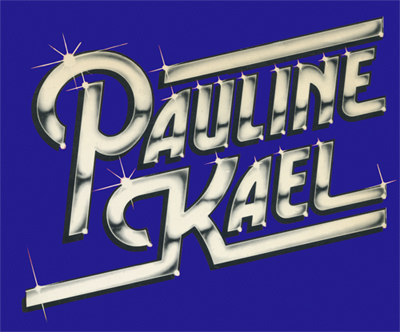 It's adapted from the cover of the 1980 Kael collection When the Lights Go Down
. I'm not a hardcore Kael devotee, but I dig the way she broke ground in the publishing of long, thoughtful analysis of movies, and showing respect to genres that at the time were considered "trash." She's also one of those critics who can be really interesting even when I totally disagree with her. I'm not sure how much of an influence she could've been on my writing, but I know she led the way for reviews of the type I try to write. So I dig her.
But I especially like this shirt as a symbol. Just the idea of people wearing t-shirts of a film critic makes me happy. I know a few of you wear a shirt of my logo, which is obviously the best thing you could do ever. But this one is amazing because it looks like a rock t-shirt. It treats analysis of film art as rock 'n roll. It says "Fuck you. I'm wearing a shirt of Pauline Kael."
Come on, one of you guys must be in a band or something. I want to see you up there playing bass and you got fuckin chromed out PAULINE KAEL glimmering on your chest. And the kids gotta look it up to find out what it is. And then they're gonna scratch their heads. You need to do this for me, and for the world.
Of course I've still got the Viva Val Verde shirts for sale, and the Jesus Is My Hometree (it's not too late to be the very first person to own one) and I've got more crazy designs in the works. Important note: I default all of the designs to American Apparel t-shirts because I like their shirts, but you can customize any of them to other brands, colors and styles, and some of them are a little cheaper.
This entry was posted on Monday, March 11th, 2013 at 1:04 am and is filed under
Blog Post (short for weblog)
. You can follow any responses to this entry through the
RSS 2.0
feed. You can skip to the end and leave a response. Pinging is currently not allowed.