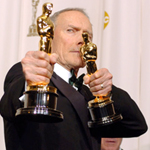 On this, the 10th 20th anniversary of the correct movie winning best picture, we celebrate by having that smarmy millionaire dick from the Comedy Central Roasts and the Fox cartoons sing fake-edgy show tunes and make Hitler jokes, but hopefully it'll still be fun. I'm kinda bummed that ARGO seems to be headed for best picture, but way worse movies have won before. I'll be rooting for LINCOLN as the one that has a chance to win (ZERO DARK THIRTY is too misunderstood and DJANGO UNCHAINED is too awesome). Remember, if LINCOLN or DJANGO does not win it proves that Hollywood is pro-slavery.
I'll be rooting for Honest Abe, who I think is a shoo-in, but I can be bad as these things. I'll be rooting for Catwoman, even though I got a thing for Li'l Mystique and she might take it. I'd like PARANORMAN to pull off an upset, but I doubt it, so I'll take WRECK-IT RALPH.
I'll be kinda mad if LINCOLN doesn't get best adapted, for many reasons, some mentioned in the link below. I'll be rooting for ZERO DARK THIRTY in original, but would also be thrilled if Tarantino or Anderson somehow got it. And if they cut to Bruce in the audience.
I definitely want Kathryn Bigelow for director. Oh wait. Okay, Spielberg.
I do not recommend drinking games but if you do them I suggest drinking for McFarlane making a Hitler reference, for cutting to Chris Tucker after another black person speaks on stage, for jokes about ZERO DARK THIRTY and torture, and references to the N-word being used alot in DJANGO UNCHAINED. Or Jamie Foxx's balls being shown.
Anyway everybody have fun and please share your thoughts below. This is recommended for participants only and not "I don't watch the Oscars because such-and-such" sticks-in-the-mud.
UPDATE: How I did on my predictions (SPOILER: poorly)
Over on this Fanhattan thing me and some other writers wrote about who we thought would win in some of the categories and why. I would've changed some of my predictions if I'd written them more recently, but wouldn't have done that much better (except I would've caught up with everybody and called ARGO for best picture. Back then it seemed like a ridiculous notion to me).
Here are the posts and whether I was right or not.
Actor: Right. Actress: Wrong.
Supporting Actor: Wrong. Did not see that coming at all. Supporting Actress: Right.
Original: Wrong. Total surprise. Adapted: Wrong. Total outrage.
Totally wrong.
I can't seem to find the posts for best animated feature or best picture, but I believe I called WRECK-IT RALPH and LINCOLN.
Total: 2 out of 9. Sorry America.
This entry was posted on Sunday, February 24th, 2013 at 2:00 pm and is filed under
Blog Post (short for weblog)
. You can follow any responses to this entry through the
RSS 2.0
feed. You can skip to the end and leave a response. Pinging is currently not allowed.