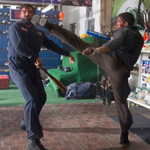 Remember when we saw those early reviews saying that UNIVERSAL SOLDIER: DAY OF RECKONING was confusing and made no sense? Most of us thought they were wrong about the movie, but it turns out they accurately predicted the video release. The obvious straightforward thing to do would be to release the original uncut version of the movie and a 3D blu-ray for those who are equipped. But I guess in tribute to the movie's unorthodox approach they decided to go with a release that's more… elliptical.
DAY OF RECKONING received an NC-17 rating and had to be trimmed. The uncut version played at festivals, but those of us who saw it on-demand saw a version with some of the violence trimmed to get an R-rating. This cut version is now the only one available on disc in Region 1/A. If you want the uncut version here I've been told it's available as a digital download.

I don't play that. I considered getting a German import that I read about, but decided on the region A blu-ray on the strength of the extras. It has a feature length making-of documentary (divided into 3 featurettes of about 30 minutes each – you know how they do it) and a commentary track with John Hyams and Dolph Lundgren, but only the R-rated cut of the movie.
The extras are indeed great. The documentary was made independently by fans from what I understand, and was clearly not by some studio advertising department. There are no shots of the actors sitting in front of a movie poster giving canned answers to dumb questions. It's on set footage, lots of direct cinema of the filming taking place, interspersed with Hyams in hotel rooms and different places between shooting, talking about his progress and problems he's facing at the time (such as when they find out before one of the big fight scenes that Scott Adkins has been hiding a serious knee injury).
Although there's footage from throughout the shoot it really zeroes in to focus on the making of particular scenes, including the Adkins vs. Van Damme fight and the car flipping outside of the sporting goods store. I really like the detail they go into about filming a stunt like that. I wish they had more on the fight that takes place inside, but so goes life.
My favorite part of the documentary is a section focusing on Andrei Arlovski. They all love how much he gets into it. In one of the scenes where he's chopping shit up with an ax he was apparently swinging a real ax in front of the real actors. Because of his high threshold of pain from MMA he sometimes has them hit him for real, because otherwise he doesn't know how to do reactions. Adkins talks about how alot of guys in fight scenes are nervous about really hitting the leading man and causing trouble, but Arlovski "doesn't give a shit."
After they paint a portrait of a real lunatic they have a great montage of him throughout the shoot doing weigh-in style face downs with various actors, towering over them and looking them straight in the eye with pure hatred. The best one is with the old lady from the plumber scene, who says she's not scared of him. There are also shots of him talking to his pitbull. He seems like a lovable guy.
One thing I noticed in the documentary: they shot an effect of Arlovski getting the top of his head knocked clear off when Adkins hits him with the baseball bat at the end of that sporting goods store fight. That is clearly the exclamation point that belongs at the end of that scene. Now all the sudden I  feel more frustrated that I don't have the uncut version of the movie.
The Hyams/Lundgren commentary track is also fun. The biggest theme is the contrast between Hyams' rebellious instincts and Lundgren's more commercial ones, and how they tried to find a balance. At the beginning they talk about an earlier script that Lundgren didn't like, which was apparently even weirder and had a protagonist with no dialogue. Toward the end Hyams asks Dolph if they made another one whether he'd like to continue in this weird direction or go back to the  more normal style of the original. Dolph feels that they can combine a DAY OF RECKONING approach with a plot about saving the president's daughter or something, to please everybody. It's kind of comical as they go back and forth about it.
In the middle they kind of get off the movie and into talking about movies they like and their philosophies about how to make movies, which makes it kind of more like an interview than a commentary track, but it's a good interview.
What I'd like to do is compile a list here of the best releases of DAY OF RECKONING for those still looking. Is there a version that has the uncut film AND the extras? Is there at least an uncut version that will work in region A players? How 'bout 3D?
Please report in the comments if you think the one you got is a good version. Include the region code and a link if possible. I'll update this post with new information.
UPDATE: So far the best prospects for uncut in the U.S. appear to be the German Uncut 3D Blu-Ray (apparently region free) and the Canadian combo-pack be Eone (reportedly uncut, although not marked as such). I'm not sure how to order through German Amazon due to the language barrier, and some have reported not being able to ship to an American address from Amazon Canada. Please let us know if you have any success yourself.
This entry was posted on Thursday, February 7th, 2013 at 1:02 pm and is filed under
Blog Post (short for weblog)
. You can follow any responses to this entry through the
RSS 2.0
feed. You can skip to the end and leave a response. Pinging is currently not allowed.