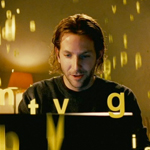 In the beginning of LIMITLESS, Bradley Cooper is actually pretty limited. He somehow has a contract to write a sci-fi novel, but it's overdue and he hasn't even started. He doesn't seem to know how to clean his apartment or brush his hair. His ex-girlfriend (Abbey Cornish from SUCKER PUNCH) is still supporting him, but bristles at his attempts to rekindle their love. He also has an ex-wife who won't even talk to him. At least he doesn't have the drug problems he had back when he lost her.
Then he runs into his ex-brother-in-law/dealer on the street, reluctantly goes for a drink with him and ends up leaving with one free sample of a pill this guy claims has been approved by the FDA and will go on the market soon for $850 a pop. Supposedly we only use 20% of our brains and this unlocks our access to the rest. I've read that that we-only-use-part-of-our-brain thing is an urban legend, but maybe this guy just doesn't understand how the pill works. However they do it, they unlimit you.
Anyway, he decides to throw the pill away. The end.
Nah. Of course he takes it, and the whole world changes. His awareness of his surroundings, sense of observation and memory are super-charged. He remembers everything he's ever read or heard or seen on TV or glanced and can instantly access and make connections between all of it, like a human computer. He's getting yelled at by his landlord's daughter, spots the corner of a law book in her bag, next thing you know he's charmed her, written her paper for her and knocked her boots. Then he writes his novel. And in the morning he's a loser again.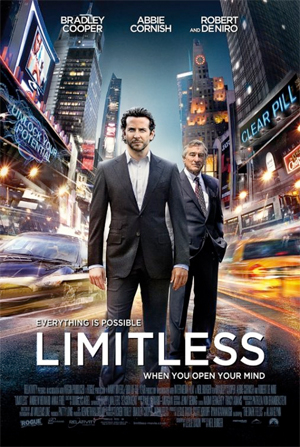 As I'm describing this it sounds like some '80s sex comedy. It has that sort of greedy power fantasy angle to it. He gets more pills and uses his powers to conquer the world of high finance and to have lots of sex. He gets a haircut and a closet full of expensive custom made suits, just like a yuppie would. But stylistically the movie is very of its time. There are alot of show-offy visual gimmicks that I think work really well. Lots of POV shots to show his heightened senses, vivid, saturated colors to show how different the world looks to him. There's a trick they keep using, endless zooming into still photos. I don't really know how to explain it but it gets you into the Limitless mindset. I would guess that director Neil Burger looked at FIGHT CLUB as one precedent for a digital age novel adaptation with lots of smart alecky first-person narration by a nobody who stumbles across the means to become a big shot in a seductive but increasingly dangerous underworld.
Oh yeah, the dangerous part. He seems ready to sponge off of the ex-brother-in-law to get more of these pills, but suddenly the guy is murdered and he runs off with a big bag of the things. Even if he'd gotten them under more savory circumstances this super genius pill thing is a Faustian bargain, so he has to deal with the various consequences. Obviously it's addictive. Maybe not physically, but how is he not gonna want to do that every day? And then there's the more philosophical side: is he fulfilling his potential or is he just being a phony? Which one is the real him? Is it fair that he can achieve all this because he has the pill, while others who don't are left behind? If this is the real him shouldn't the rest of the world get to be the real them? And then would he just be a regular schlub again by comparison? (If that ever happens, try to get into the tailoring business. Everybody seems to wear suits when they're on this drug.)
Along with those problems there are more thriller-ish ones: stopping the drugs might kill him, other users are desperate and would kill him for his supply. I mean, he turns super-rich and powerful overnight and even gets the girl back, but it's not all strawberries and cream and penthouses for this guy. And every pill he takes is one pill closer to running out. This is not a sustainable lifestyle.
Robert DeNiro shows up as a big time player ready to take advantage of Cooper's investment ideas. There's a real uncomfortable scene where they have a meeting when he's run out of the pills and has to hide that he doesn't know what the fuck anybody's talking about. It's interesting that DeNiro plays Cooper's pops in SILVER LININGS PLAYBOOK and that they both got nominated for Oscars for it. Maybe LIMITLESS was the dry run.
If I gotta classify this I'd say it's a suspense thriller with sci-fi elements. But they do pepper a little action in there. When some guys attack him he flashes through memories of GAME OF DEATH, self defense videos, shit like that. Suddenly he knows how to kick ass. I wish he had a memory of CHOCOLATE, so he'd be learning to fight by remembering a movie where a girl learns to fight by remembering Tony Jaa movies.
There's some foot chases and shit, and an insignificant little moment that made me laugh 'cause I don't think I've ever seen it in a movie before. He's running out in the middle of the street and suddenly has to dodge somebody running in the other direction. Who was that?
But definitely the best action move is during the scene where Cornish has to take one of the pills in order to help him. She gets chased, and luckily must've seen DISTRICT B13 or something, she knows a few parkour moves. She runs out into an ice skating rink, grabs somebody's kid and swings her around to slice her pursuer's face with her ice skate. She uses a child as a weapon! There's a couple moments of insanity like that in this one. I always appreciate those.
On the other hand, I think the couple gets off a little easy there after that scene. It's very convenient that the girlfriend doesn't want to take anymore, so she won't also have to solve the dilemma of the rapidly diminishing supply. But also it seems like a problem that the reason she doesn't want to do it is because she doesn't consider it the real her. That being the case shouldn't he be offended that she'll only be with him after he takes the pills? As if admitting she doesn't love the real him? I think their relationship is doomed, but it didn't seem to me like the movie recognizes this. Oh well.
Also I'm glad he didn't use his powers to fight crime.
Holy shit, I just looked up the writer. Leslie Dixon's previous credits include OUTRAGEOUS FORTUNE, OVERBOARD, LOVERBOY, LOOK WHO'S TALKING NOW, MRS. DOUBTFIRE, HAIRSPRAY (the musical one, obviously)… She did do the remake of THE THOMAS CROWN AFFAIR. Other than that there's no precedent for her writing something kinda serious. She adapted from a novel called The Dark Fields by Alan Glynn. The director, Burger, is best known for THE ILLUSIONIST, the Edward Norton magician one.
LIMITLESS is a good b-movie. Not real deep, but clever and different. And it had that ice skate bit. Even without brain pills I'm gonna try to remember that one in case I ever need it.