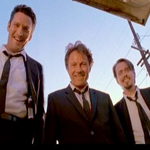 Hey friends, somehow I have another piece in the ol' Village Voice. This one is about Quentin Tarantino and why I hate when people say that his movies are just rip offs of other movies. I want to sincerely thank C.J. Holden for setting me off on a rant about that topic in a comment thread a while back, some of which was adapted into this more concise and polished version.
Let me know what you think.
This entry was posted on Thursday, January 3rd, 2013 at 2:46 am and is filed under
Blog Post (short for weblog)
. You can follow any responses to this entry through the
RSS 2.0
feed. You can skip to the end and leave a response. Pinging is currently not allowed.