VERN'S MAILBAG
Hi Vern,
Maybe on the site you could have a list of 10 or so of your favorite slasher films. I'm dying for some good stuff to watch this month, and I would trust a list from you.
Keep up the excellent work,
Cassady
I thought this was a good idea. My apologies to Doc Phibes though, who was sick of all the slasher movies I was reviewing. Hope you enjoyed the killer bear and demonic virus reviews, Doc.
I think instead of a list I'll just do a little run through of ones I enjoy, with brief comments. This won't be a definitive list or even the definitive definition of "slasher." Just to get some variety I'll loosen it a little to include almost anything with some jerk going around killing people with a sharp tool.
1. THE MASK OF ZORRO starring Antonio Banderas.
Nah, just fuckin with you. That doesn't count. We really have no choice but to start with the three obvious masterpieces of the genre: PSYCHO, TEXAS CHAIN SAW MASSACRE and HALLOWEEN (originals in all cases, obviously). I'm assuming most or all of you have seen them, but I bring them up just in case. No need to be embarrassed – remember when I'd never seen THE GODFATHER? These things happen.
Once you've seen and re-seen those there are offshoots of each that I enjoy watching. The first two PSYCHO sequels are good, if you're open to the idea of post-Hitchcock Norman Bates.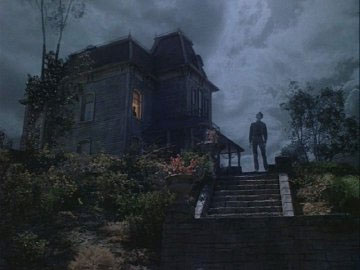 They're actually twisty suspense stories with just a touch of '80s horror. Anthony Perkins returns as Norman Bates trying to deal with his sickness after being released decades later, a very sympathetic psycho. Part 2 is directed by the Australian Richard Franklin (ROAD GAMES), who you could say was literally a student of Hitchcock considering he got him to come talk to his film class. I hope to rewatch these soon, and also part 4 even though I didn't like it the first time.
I'm a completist with TEXAS CHAIN SAW so there are bits I like in each of the sequels, but only part 2 is actually good. In fact, I demand that all horror fans see this, it's a masterpiece in its own right. The tone is totally different – funnier, more excessive in humor, set design, acting and especially gore. This one is darkly hilarious and works as Reagan era satire, but it just occurred to me that I never think of it in discussions of horror and comedy because I don't think of it as a comedy, it's so relentless from the invasion of the radio station to the final shot. And I believe Bill Moseley's music loving, self-cannibalizing Vietnam vet Chop Top is the single greatest horror character that hasn't become a popular Halloween costume.
The HALLOWEEN sequels aren't as good. Part 2 I enjoy watching every couple years, but it's only half good. 3 is unconnected, 4, 5 and 6 are bad, and 8 is abominable. But if you're interested in Michael Myers and you haven't seen HALLOWEEN H20 – 20 YEARS LATER I'd recommend it. It's very '90s, and I still don't understand why they can't get the mask right in any of the sequels. Come to think of it they can't seem to get the likeness of the mask from the first one anywhere except the remakes. In fact I'm kind of a connoisseur of bad Michael Myers masks sold in stores. They come in all shapes and sizes. Here are just a handful of the varieties found on a quick Google image search: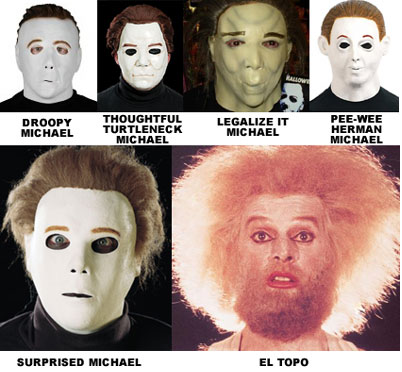 And of course there's the all time greatest, I forget where I first saw this one but I believe it's taken from some costume shop catalog. This is the greatest bad Michael Myers mask photo of all time: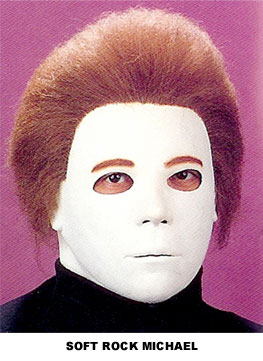 I guarantee that the one in H20 is at least better than that. And once you get beyond that it's pretty solid. It's interesting to see the traumatized, 20 years older Laurie Strode facing her demons, and it ends in a great chase.
H20 is directed by Steve Miner, who also did my favorites of the FRIDAY THE 13TH series, parts 2 and 3. 2 is actually my favorite formulaic slasher movie. I guess it started some of the formula, but I don't think of it as a transcendent movie above the rest of the genre like HALLOWEN or CHAIN SAW. It's all the cliches but done exactly the best way, showing why it's fun.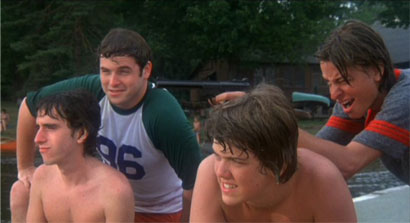 The there's THE BURNING, the best non-FRIDAY THE 13TH camper movie, finally on DVD last year. As you can see at left this is also the movie that answers the question "Did Jason Alexander have hair and if so did it attract horribly disfigured maniacs?" There's also SLEEPAWAY CAMP, a pretty atrocious and probly homophobic movie but it's just so effortlessly strange and crass that I recommend it highly. There's nothing else like it except the recent RETURN TO SLEEPAWAY CAMP.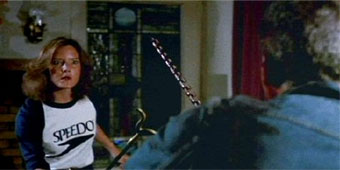 Another lower quality but enjoyable one is SLUMBER PARTY MASSACRE. People read alot into it because it's a woman writer and director. There are some interesting things going on. Worth watching.
How bout we switch it up and go with Dario Argento's DEEP RED. I prefer his more surreal witch movies like SUSPIRIA and INFERNO, but this is almost as good and it's about a mysterious slasher. Probly my favorite Goblin score too with badass drums that give any blaxploitation score a run for the money. It combines the suspense and murder mystery trappings with some of the more dreamlike touches that Argento is known for, such as an out-of-the-blue sequence with a doll that I'm convinced inspired all that puppet business in the SAW movies. If you want a more visually artful slasher movie this might be the best on this list.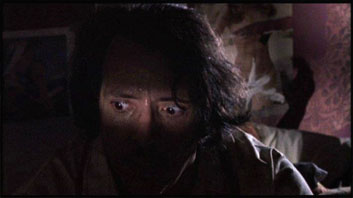 I also love MANIAC, but I've recommended it to some people who didn't like it. This is more like a serial killer movie because the killer is the main character. It's just such a great, weird performance by this guy Joe Spinell, who was in THE GODFATHER (see, I told you I've seen it now).
I usually consider these in a different category, but when it comes to the (even more) supernatural killers the first appearances of the iconic ones are all really good: CHILD'S PLAY, A NIGHTMARE ON ELM STREET, and I can't say enough about CANDYMAN. All three are clever, atmospheric and more serious than you probly remember, and dig deep into your primal fears. I think all 3 are genuinely pretty scary, worth rewatching if you haven't seen them since you were young. The sequels are mostly for completists like me, but WES CRAVEN'S NEW NIGHTMARE is really smart and inventive and of course I've always loved the absurd BRIDE OF CHUCKY and SEED OF CHUCKY.
Finally (and maybe Doc Phibes will approve of this) I want to mention three spectacular Vincent Price movies, THE ABOMINABLE DR. PHIBES, DR. PHIBES RISES AGAIN and THEATER OF BLOOD. They may be easier to classify as "classic horror" or something but they have an awful lot in common with slasher movies – Price's characters are disfigured maniacs who feel wronged and exact revenge by committing a series of themed murders. The SAW movies especially reek of the Vincent Price influence, although not nearly as fun. THEATER OF BLOOD is more of a black comedy but it's Price's goriest. Playing an arrogant Shakespearean actor murdering the critics who failed to give him an award he thought he deserved, he murders one in a method based on Titus Andronicus, force feeding dog-pie to this guy until his stomach explodes. So it'll class up your Halloween celebration is what I'm saying.
Those are the basics. If you've long since exhausted that list I'm sure you've also seen SCREAM and AMERICAN PSYCHO. There are other decent ones like THE PROWLER, HOUSE ON SORORITY ROW, THE TOOLBOX MURDERS, ALICE SWEET ALICE, HAPPY BIRTHDAY TO ME. BLACK CHRISTMAS and SILENT NIGHT, DEADLY NIGHT are good but obviously not the best for getting in the Halloween mood.
and hopefully that's enough for now
This entry was posted on Thursday, October 22nd, 2009 at 12:44 pm and is filed under
Blog Post (short for weblog)
. You can follow any responses to this entry through the
RSS 2.0
feed. You can skip to the end and leave a response. Pinging is currently not allowed.