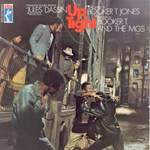 You guys know who Booker T and the MGs are, right? The amazing instrumental R&B group, centered around soulful organist Booker T. Jones, with a group of super-tight studio musicians including Blues Brothers Steve Cropper and (in a later lineup) Donald "Duck" Dunn. They were the house band for Stax Records, so not only did they have all their great albums but you can hear them backing up Otis Redding, Wilson Pickett and others.
If you know them you might also know this song, "Time Is Tight":
Recognize that? Their somewhat similar song "Green Onions" is used in way more movies, but "Time Is Tight" is in FEAR AND LOATHING IN LAS VEGAS, so you've at least heard it in there.
One thing I didn't know until a couple years ago is that this song was originally composed as part of the score for a 1968 movie called UP TIGHT, directed by Jules Dassin (RIFIFI). I found the soundtrack on vinyl, but at that time the movie had never been on video. It finally came out a couple weeks ago so I checked it out.