Long before Kathryn Bigelow swept the country into a state of frenzied Hurt Lockermania there were other women directors paving their own roads, carving out their own niches, laying their own tracks, mapping out their own nature trails, and other metaphors. One such director was Shirley Clarke.
(That's not her to the left, that's a goofy lady that's in the movie.)
I first heard of Clarke when I saw ORNETTE: MADE IN AMERICA, a very strange experimental documentary about free jazz pioneer Ornette Coleman. It's a mixture of interviews, re-enactments and performances in strange settings. Ornette talks about his life, his work, goes off on tangents about self-castration, geodesic domes, you know the drill. Or maybe not. I guess Clarke was not your everyday director. And not just compared to Penny Marshall or Nancy Meyers. Compared to everybody.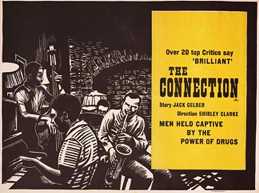 Now I've caught up with probly Clarke's best known movie, THE CONNECTION. Based on a play, it takes place entirely in one apartment where a bunch of junkies are hanging out. So it's very stagey, but it looks like they might've filmed in a real apartment. The grime and age looks much more real than a set for a play.
This might be one of the earliest fakumentaries. The junkies are supposedly opening their lives to this documentary director – not Clarke though. It's a dude and we see him on camera, trying to act like one of the guys, using slang like calling everybody cats and what not. There's also a cameraman who we see and hear sometimes. He has a very distinct voice and enunciation, because he's Roscoe Lee Browne, the narrator from BABE.
It has some of the same formula that they use for horror fakumentaries now. For example there's the part where someone claims the camera is turned off but actually it's on, and the part where the person making the movie is criticized for wanting to make everything into a movie. This was maybe meant as a criticism of the cinema verite/direct cinema, pointing out that the presence of the camera changes things, and can be exploitative, or whatever. But I don't know if that's a good criticism because if they had really hung out with real jazz musician junkies and filmed them for real I bet it would be more interesting and more real than this fictional re-enactment, regardless of any documentary self consciousness or whatever.
This had to have been groundbreaking at the time. They mostly go into a bathroom to signal to the audience that they're shooting up, but at the end there's a graphic injection scene. Unfortunately by today's standards the acting and dialogue are extremely mannered, not the kind of gritty realism the concept lends itself to. Most of the characters are pretty over-the-top in their philosophical monologues that they make, especially the director guy, who is gradually shamed into getting a first hand understanding of getting high, and then he instantly turns into a mess. So it's pretty corny, but it does have some value as a movie that shows the piss-stained ugliness of addiction without demonizing the addicts.
These guys are losers, but it's frustrating because you can see they're smart guys who could do better. But they just won't face it. In fact at the end one of them collapses of a possible O.D., and instead of dealing with it they all pretend not to notice and make excuses to leave. Cowboy (the connection of the title, I guess) politely bids them farewell and doesn't acknowledge that he thinks they're scumbags for abandoning this guy. They know it could've very well been them. Or could be next time.
Cowboy, although part of the drug scene, is a progressive black character for the time, being in control and intelligent like Ben in NIGHT OF THE LIVING DEAD. Two black and white independent movies of the '60s. Too bad Clarke never got to make DAWN OF THE CONNECTION.
The drug talk gets tedious, but there's one aspect to this movie I haven't mentioned yet that makes it pretty spectacular. A bunch of the characters are jazz musicians, played by real jazz musicians. So there are several impromptu numbers played live for the cameras. Sometimes a character is talking about something or the director is trying to set up a shot, and meanwhile these guys are playing away. And they're really good.
The lineup is Freddie Redd on piano, Jackie McLean on alto sax, Michael Mattos on bass and Larry Ritchie on drums. I guess these guys were also in the original stage version, so even if the play itself was a little corny that must've been a great thing to see live. If I was a playwright I think I would rip off this idea, just get actors who can play instruments so in case it gets boring they can start playing. Or they could do a martial arts demonstration or juggling or whatever. You gotta get multi-talented actors is what I'm saying, as a backup.
For Clarke directing was a backup. She started out as a dancer but got into film by making some abstract dance related shorts. Soon she became a major player in the New York experimental film movement with Stan Brakhage and many other names that I have read before and let's pretend like I know who they are. She was nominated for an Oscar in '60 for a documentary short about the construction of a building. THE CONNECTION was supposedly pretty influential in its approach to what then was considered realism, and it was also a breakthrough in New York because it overturned some of their existing censorship laws.
In '63 she actually won the Oscar for a documentary feature on Robert Frost. The year after that she did another feature, this one called THE COOL WORLD and about street gangs, but it's never been on video. Alot of her other work was weird experimental shit, doing "video collages" in the '70s and '80s. She taught film for about ten years, made her last movie (the Ornette one) in '85, died in '97. So although you don't hear about too many women filmatists they have always been there, and Clarke was one who accomplished alot.
Man, I'm gonna feel dumb if Shirley Clarke is actually a dude, like Carroll Ballard or Harmony Korine.