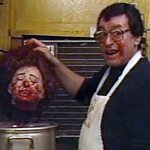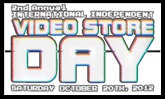 You know, I got buddies who are really into the shot-on-video horror movies of the '80s. Some of them, like SLEDGE HAMMER for example, have been getting loving re-releases lately (with limited edition VHS version, even). Personally, at least where I am in my journey as a man and spiritual being at this point, I draw the line at shot on video. If I rent one on accident I turn it off immediately, wrap it in 3 plastic bags and bring it back. I watch a z-grade movie like BLOOD MASSACRE shot on actual film and I think if these motherfuckers could get it together to achieve that minimum level of professionalism then there's no excuse. Yeah, money, but maybe that's a helpful type of elitism, a firewall put in place to protect us.
But I knew VIDEO VIOLENCE had a video store prominently featured, and I thought Fangoria did a nice retrospective on it a few months ago, and also I forgot it was shot on video until I put it in. And I decided to give it a chance.
(It turns out the Fangoria article I was thinking of was THE VIDEO DEAD, an early DTV zombie movie.)

The title might actually be VIDEO VIOLENCE… WHEN RENTING IS NOT ENOUGH. You'd think that would only be the tagline, but it actually says it on the opening credits, so IMDb lists it as the title. It's the story of a guy who used to run a movie theater in NYC, but wanted to escape the big city, so he and his wife moved to a tiny town called Frenchtown and opened a small video store.
One day somebody returns their personal video instead of the movie they rented, and his employee decides to watch it, and it seems to be a home video of somebody (the recently retired postmaster, he says) being murdered. He goes to tell the police chief, but stupidly leaves the video alone with his employee, and when he comes back both are gone. The chief blames this all on a prank, but we know it's not because we saw the opening scene (actually labelled onscreen as "PROLOGUE") where two men working at a sporting goods store spy on a woman in the dressing room and then murder her on camera.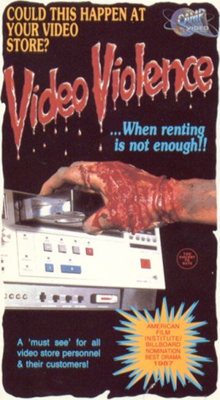 But it starts to seem like it's not just those two guys, as a woman leaves more tapes on the counter at the store, and somebody else slips one in his wife's purse, and other people seem to be in on the cover up. We start to see some of the tapes of these crazed rednecks tormenting people. This guy Eli calls his "The Eli Show," pretends like it's a talk show with a sidekick and guests and everything, and says "We're going to torture and kill you on network television." (not accurate)
The best scary maniac in the movie is Ed of Ed's Deli, who could work as a nice old shopkeeper but seems more at home when he gives a couple poisoned lemonade and then uses the deli slicer on them.
The video store in this one is called The Video Studio. It's way smaller than the one in BLOOD MASSACRE, but still has room for a selection of video cables and advertisements for film transfer services. There are also plenty of posters I could recognize: WILDCATS, QUICKSILVER, APRIL FOOL'S DAY, CRITTERS, TO LIVE AND DIE IN L.A., CROSSROADS, MURPHY'S ROMANCE, JAGGED EDGE, GUNG HO. There's what looks like a POLICE ACADEMY poster with a yellow background, but if so I can't figure out which one. There's a sign on the door that says "Official Ghostbuster Station." Best by far is a painted RUNAWAY TRAIN poster on the front window.
Writer/director Gary P. Cohen says in an interview on the DVD that he really worked at a video store at the time (I'm assuming the same one they filmed at). So he tries to fit in these little discussions of how the business works and stuff. In one scene the guy tells the police chief he found the video in the "drop box" and then explains that that's what they call the box under the "drop slot." Very helpful. There's an uneventful part where a woman brings up movies, tells him they're late, and she pays the late fee. Naturalistic detail. In another scene a woman returns videos and says, "Here. These are on time," which seems like a weird thing to say, but I guess this guy knows his business.
It's got some goofy stuff for you youths, out of date video stuff, talking about how many people own VCRs and treating them like not everybody knows how to operate them. There's a scene where the chief loads the tape into a giant, top-loading monster.
There's a scene where a customer at the store asks about why a movie is rated R, is there nudity in it? And he says it's probably because of all the gore and violence, and she says okay, the kids can watch it then. In that interview, Cohen explains that that was a conversation he really had, and that was why he made the movie. He's pointing out a weird hypocrisy in American culture, that some people are prudish about depictions of sex but have no problem with graphic violence. (Some people – in fact, many people take that too seriously too.)
If you're thinking this is one of those movies like FACES OF DEATH that were supposed to shock your pants off, the titeltacular violence is not all that frequent. There are a couple beheadings and dismemberings done with lovably crude rubber effects, but the rest is just fake blood. Still, this movie is guilty of its own type of hypocrisy, because instead of arguing that it is okay to see nudity in movies it seems to be arguing against violence in movies, while being a violent movie. It does have naked breasts in it, but only in the context of women being tortured. Not loving sex or sunbathing or anything.
In fact, there's a weird motif of self-referential criticism. When they're discussing the first video the wife says, "You know, he probly just taped a horror movie off of television," and the guy says, "No, it was shot on video. I mean, it had the same quality as a soap opera, or one of those rotten commercials. Not a film." Later the wife makes a less critical meta-comment, suggesting that a vampire-themed snuff video "could be one of those low budget films that was shot for the home video market."
Despite the seeming anti-video-violence stance, this is obviously made by horror fans. They're sure to get the covers of many great horror classics on screen. When a customer asks for "that chainsaw movie" you assume they'll grab him THE TEXAS CHAIN SAW MASSACRE, but instead they give him PIECES. The movie the no nudity lady was renting was BLOOD CULT, the first shot-on-video made-for-home-video movie. (It's also known as SLASHER and included on that Serial Psychos set I rented for BLOOD MASSACRE, but I couldn't do it. Sorry, history.) They avoided the #1 cliche of '80s horror fan references by not having characters named after John Carpenter and Joe Dante and everybody, but they do have #2: showing Fangoria Magazine. The dude poisoned by lemonade was about to buy an issue with a cover story on Cronenberg's THE FLY. There's also a Famous Monsters of Filmland on the magazine shelf.
I gotta admit, this was much more watchable than I expected. I somewhat enjoyed some of it. The actors are apparently from community theater, they don't seem convincing at all but are easier to take than some of the artisan acting in some movies like this. To be honest the biggest problem with being shot on video in this case is not the crappy look of it but that it doesn't have the get-to-the-point economy created by not being able to afford much film. They could've edited this thing alot quicker. There's a scene where it's just the characters sitting and watching one of the videos they got, and the killers put credits on the video, and the credits are really long. And it shows them! Overly long fake credits.
Since they can just keep shooting and didn't have as much time to edit they end up with a bunch of long scenes of just cars driving from one place to the next. And it doesn't have the visual or audio hypnotic feel of the long driving scenes in GHOST DOG or even BROWN BUNNY. It's just some shitty keyboards playing repetitive melodies over home video of a normal car driving several blocks and under the speed limit. Painful. I have to admit I started fast forwarding through some of these scenes and the torture videos to make it through the 100-minutes-with-credits running time. That's a pretty short movie but it's way too long for this.
There's also a VIDEO VIOLENCE PART 2, included on the same DVD, and apparently shot on regular VHS instead of 3/4″ tape like this one. Cohen explains of these movies, "No, they're not good, but they're in earnest."
Anyway, I think I'll sit out part 2.