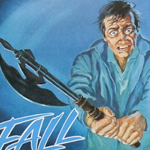 THE MUTILATOR is a pretty good one about a guy mutilating other guys and their girlfriends. That is why he is called the mutilator, I believe. Well, nobody calls him the mutilator in the movie but out here in the real world we call him the mutilator on account of that is the name of the movie. It's hard to explain but I think some of you get it. The Mutilator.

I think what makes this one stand out from other slashers is how little it stands out from other slashers. It sticks to the very basics of the formula without much imagination or surprises. The tweaks that it does have are noticeable but so simple that I'm not sure if it's lazy or brilliantly subtle. But I am a positive individual so I lean toward the second one.
A good example: it forgoes the slasher tradition of having a mystery around who the killer is. Usually you don't know who it is at least for part of the movie, or there's a mystery about their motive that's revealed near the end. In this one we know it from scene 1: this dumb fucking kid Ed tried to clean his father's guns as a birthday present, accidentally shot and killed his mom. Big Ed immediately blamed the son, and now he's gonna kill him. It's years later and he got Ed Jr. to come out to his "condo" on the beach (seems more like a cabin to me) to close it down for the winter. Junior brought along a bunch of his drunk, horny college friends, who are gonna get it too.
We know that Big Ed still blames his son – he still fantasizes about shooting him as a child, or slitting his throat. It's also established that he "went crazy" after the accident, that he was and still is a raging alcoholic known for his epic benders, that he loves to hunt all kinds of animals, is interested in primitive cultures that practice human sacrifice, owns a battle axe (whereabouts unknown), is talented at throwing things into walls, uses dangerously sharp rail road spikes as wall hangers.
I guess you could say this is going back to the HALLOWEEN formula, since that one showed Michael killing his sister and then skips forward and there's no question that it's Michael who escaped the asylum and is coming back to town and committing a string of murders and thefts (rope, mask, gas station jumpsuit). Big Ed seems different because he's just a dude, no uniform or mask. He even owns a tribal mask that the kids look at on the wall and discuss, but he never wears it. So we don't have to wonder if maybe we're being tricked and somebody else is doing it. Also it's a good thing because it's a really stupid looking mask.
In one scene Big Ed is on top of a car, chopping through the roof, trying to kill the occupants. The girl rams his hand with the car's cigarette lighter and burns a hole into it. He holds up his hand in agony, and… wow, what other slasher wears a wedding ring? I don't think any of them do. Even Chucky. If I remember right the rings they had were for humans and wouldn't really stay on their little doll hands. I'll have to check.
I mean, wouldn't that be smart for Michael to wear a wedding ring? Then they'd see it and they'd think this can't be Michael Myers, this guy is married. Come on Loomis you old crank, this has got to be some other guy. And then Loomis would start trying to figure out if Michael was secretly married in the asylum. Who is the Bride of the Shape? It would totally throw them off.
And Freddy could do it, even though he doesn't hide his identity. He would enjoy it just as a way of fucking with people.
Anyway there are a few little touches like that, the filmatists probly weren't even really putting much thought into it, but they give it a little distinctness for those of us paying attention. I think the most memorable part of the movie though is the unintentionally goofy opening. There's not much in the world more horrible than fatal kid gun accidents, but on the other hand there's something hilarious about a fake movie kid cleaning his dad's guns as a birthday present. I guess that's what we get for trying to make the next generation more manly. He could've just drawn up some "I will do chores" coupons but no, he's gotta shoot a fuckin hole through mom. And the wall.
At least the cake was spared. If they ever do a remake that cake's gettin it. It's easier to do now 'cause of digital.
I gotta admit, THE MUTILATOR does make a big deal about the girlfriend putting her foot down and refusing to have sex with Ed. Jr. – "I want to, but not here. Not now." And she's the frumpily dressed one. So I'll give you this one, SCREAM and BEHIND THE MASK: THE WHATEVER OF WHATSISDICK. I thought you made up that "the survivor has to be a virgin" thing just because HALLOWEEN coincidentally had that. I'm still not convinced it's a major component of the slasher formula, but THE MUTILATOR does support your argument. You win this round.
At the beginning they decide on this trip because they have nothing to do on "Fall Break," which I don't remember being a thing, so I was surprised when the cheesy pop rock song on the credits started mentioning Fall Break alot. Turns out that was the original title of the movie. Here's evidence in the form of a super rare poster: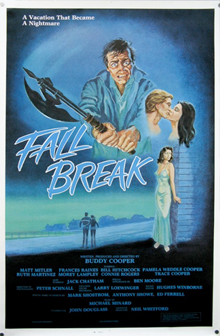 (click on it for larger version and more info on the excellent websight of the guy who owns it)
Maybe after it came out in '85 they decided that the "horror movie named after a specific day or time of year" thing was passe. And then for years everybody else has been jealous that these motherfuckers already used up "The Mutilator."
There are less "kills" than in some of the other slasher movies, but it fulfills the requirement of some pretty good effects. There's one really realistic looking severed head prop, anyway. The best part is after Big Ed has been chopped in (SPOILER) half, Bishop style, he still manages to ax an innocent police officer and then laugh about it. But the movie ends on a positive note – no CARRIE type jump scare, ridiculously upbeat (but sincere, I think) closing credits music, outtake showing the actors playing father and son laugh and hug after one strangles the other. I can't remember another slasher movie with end credits even remotely like that, so I give it points for originality there.
Linda, whichever one that is, is played by Frances Raines, the niece of Claude Raines. The director is named Buddy Cooper, but IMDb gives him no other credits except boom operator on a 1994 comedy short called NO TIME. Directed by Darren Aranofsky! What the fuck? Well, it turns out he was a lawyer who decided to make a movie – horror because that was what was profitable for independent filmatists at that time – and dictated the script to his secretary.
Unfortunately the movie is not very easy to come by. I rented it on a PAL Code 2 import, but the intro to this interview with Cooper (hey guys, I'm getting interviewed by badmovies.org! That's good, right?) says that none of the releases are authorized.
Anyway, I enjoyed THE MUTILATOR as a pretty solid example of the form with a couple weird touches, so Mr. Cooper has done better than many one-timers, in my opinion.
thanks to Mr. Majestyk for convincing me to rent this one