Thank you for tuning in to outlawvern.com, your headquarters for the very latest in linking to other websights that have the very latest on EXPENDABLES 2: TRY TO BE OPEN-MINDED, GUYS. A new article at Entertainment Weekly dot communications has confirmed some of the rumors and might start a couple new ones too. The short of it is that Stallone is going to pretend to go toe-to-toe with Van Damme in a fight. But it gets better. More summarizing and paraphrasing after the clicking thing.
CONFIRMED IN THE ARTICLE
Van Damme and Chuck Norris in the cast:
"Stallone said… that he's also added Chuck Norris and Jean-Claude Van Damme to the mix…"
Van Damme will be a villain:
"'We'll have a big showdown between me and Van Damme, which has been anticipated for a long time, so it should be a good one,' says Stallone."
It does not mention Norris's alignment.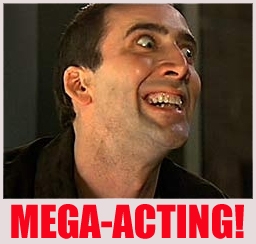 THE BEST NEWS IN THE ARTICLE
He "thinks" Nic M.F. Cage is gonna be in the movie:
"'We've got Chuck Norris and I think Nic Cage,' says Stallone. 'We're trying to work out different scenarios.'"
Let's all hope Cage plays a mega-actable villain. The article doesn't mention this, but if Cage can work it into his schedule there are a couple good reasons to think he'd be willing to do it. Simon West directed Cage in CON AIR and the upcoming MEDALLION, so there's a relationship there. Cage also has a relationship with Millennium Films because they produced THE WICKER MAN, DRIVE ANGRY 3D, TRESPASS, MEDALLION and most importantly BAD LIEUTENANT: PORT OF CALL NEW ORLEANS. And he seems to be loyal to producers, considering how many shitty movies he does with Jerry Bruckheimer.
DOESN'T SOUND LIKE IT'S GONNA HAPPEN
EW tries to push the reports that Mr. Cage's FACE/OFF faceswitching partner J. Travolta might be in the movie, but this Stallone quote seems to imply that's not likely:
"It's possible. The one thing I've learned is what is a fact on Monday is a complete fallacy on Tuesday. A lot of it is scheduling. It's not financial. It's just that Bulgaria is definitely a jaunt. It's a commitment, you know what I mean? Especially in the dead of winter."
TWO ACTORS WHO ARE POPULAR AROUND HERE THAT STALLONE BRINGS UP SOMEWHAT CONDESCENDINGLY BUT DOES NOT MAKE CLEAR IF HE IS SERIOUSLY TRYING TO GET THEM OR IF THEY ARE JUST EXAMPLES OF THE TYPE OF ACTOR HE'S TRYING TO GET

"I like using people that had a moment and then maybe have fallen on some hard times and give them another shot. So we're always looking for actors like Michael Biehn and Michael Pare. I like those kinds of guys. Someone did it for me and I like to see if I can do it for them."
THE BIG QUESTION THAT IS NOT MENTIONED AT ALL IN THE ARTICLE
Jet Li
This entry was posted on Tuesday, September 13th, 2011 at 10:38 pm and is filed under
Blog Post (short for weblog)
,
News
. You can follow any responses to this entry through the
RSS 2.0
feed. You can skip to the end and leave a response. Pinging is currently not allowed.