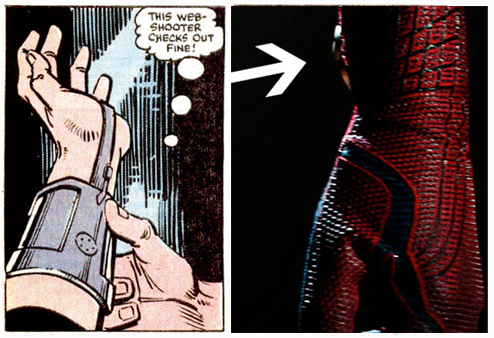 Okay, I remember this being a thing when Sam Raimi made his first Spider-man picture (we'll call it SPIDER-MAN A), but I kinda forgot about it. Now there is some hubbub now that the other guy is doing the other Spider-man picture (SPIDER-MAN B). See, in SPIDER-MAN A the guy had what the nerd community refers to as "organic web-shooters," which means that he has the power of a Spider-man and can shoot spider-webs from his wrists although he is the size and shape of a man and does not suck the blood of flies or any crazy spider shit like that. In SPIDER-MAN B he has non-organical type web-shooters, meaning he's just a regular non-webshooting individual who owns little web-shooting machines that he invented, on account of he is a huge nerd. This is considered a victory for all Americans because apparently this is how it was done in the comic strip books.So here's my question for you experts: you're telling me this "Spider-man" has been nothing but a complete fraud from day 1?! He is not in fact a Spider-man at all, but just a dude with a cool wrist-device who happens to have a disgusting infection?
I don't know the material, I just know what one absorbs as a citizen of modern society, that there is an individual named Peter Parker who was bit by a radioactive spider that gave him the powers of a spider. In my opinion a reasonable expectation would be for those powers to include the one unique thing that a spider can do, which is to make spider webs. It turns out Mr. Parker inherited nothing of the sort. He just can walk up a wall, like a spider, or an ant, or pretty much any type of bug. He is really a mere Bug-man. Since he can actually invent the much more interesting and useful power of web-shooting I think we can assume that he could've also invented wallsticking, so that "power" is really not even worth mentioning.
The way one of you explained it to me recently a "super hero" is somebody who actually has superhuman powers, such as Blade or Popeye. But a "crime fighter" is somebody who does not have magical beams or strengths, but just good equipment, like Batman or Sean Penn. This means that Spider-man is not in fact a super hero, he is a crime fighter who should probly see a doctor. Right?
I don't know man, I feel like I've been lied to all along. I'm surprised Howard Zinn or one of those guys didn't uncover this a long time ago.
.
.
.
Oh, by the way, thanks everybody for telling me about the guy interviewing Seagal on British television. I'm working on getting ahold of it and looking forward to studying it.
This entry was posted on Wednesday, February 16th, 2011 at 3:31 am and is filed under
Blog Post (short for weblog)
. You can follow any responses to this entry through the
RSS 2.0
feed. You can skip to the end and leave a response. Pinging is currently not allowed.