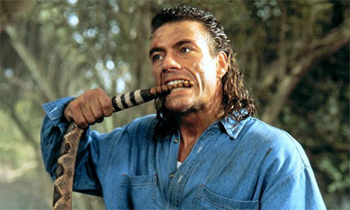 Yesterday it was reported that Jean-Claude Van Damme suffered a mild heart attack while in New Orleans filming for WEAPON, a movie where he's co-starring with Scott Adkins. Van Damme is reportedly okay and has returned to Belgium. If you need any more reassurance, LIONHEART director Sheldon Lettich posted on thevandammefans.net and from what he says it sounds like it was a few days ago and he's long since back to normal.
But of course you gotta worry about a guy with a physical job like that having those type of health issues, and I know many of us here are fans of Mr. Van Damme (who by the way turned 50 on Monday). Not only has he made many of our favorite cheeseball American martial arts movies (KICKBOXER, BLOODSPORT, HARD TARGET, etc.) but in my opinion he's on a hell of a roll right now. First he had a surprisingly good dramatic performance in UNTIL DEATH, then his best (and most) martial arts in years in the Isaac-Florentine-disowned THE SHEPHERD: BORDER PATROL, then of course a big breakthrough with his best acting ever in JCVD and the best DTV movie to date UNIVERSAL SOLDIER: REGENERATION. And since then he's directed THE EAGLE PATH so we'll have to see how that turned out when it gets released.
So my hat is off to Mr. Van Damme for his hard work and I think I speak for all of us in wishing him good health. Take care of yourself bud and don't do the splits too much.
This entry was posted on Wednesday, October 20th, 2010 at 12:18 am and is filed under
Blog Post (short for weblog)
. You can follow any responses to this entry through the
RSS 2.0
feed. You can skip to the end and leave a response. Pinging is currently not allowed.