THE HUMAN CENTIPEDE is the buzzed about "dude it's the most fucked up ever" horror movie of the moment. I had heard it mentioned about ten thousand times but honestly managed to never see a poster, a trailer or a still from it or even really know much about its plot or origins other than the fucked up thing that happens in it. I guess there's probly not much overlap between people who haven't heard of this yet and people who are into crazy fucked up shit, but if you somehow manage to be in both camps I say stop reading this, cover your ears and go watch it immediately, and you will be surprised. I kind of wish I could've done that, but of course if I hadn't heard about this madness I wouldn't have made the effort to see it. It's like that old zen coan, does crazy fucked up shit really happen in a movie if nobody ever watches it?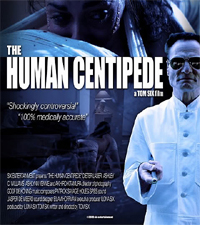 By the way, I should mention that this is not very faithful to the video game at all. There's no mushroom or spider or anything. But I guess it's supposed to be kind of an updated version.
The movie opens with a man parked on the side of a road fondling a strange photograph. A truck driver pulls over behind him and goes into the woods to take a shit. The first guy, a nicely dressed older gentleman, kind of an Udo Kier type, follows the truck driver and shoots him, and it cuts to the title. The scariest part of the title is the "(FIRST SEQUENCE)." The guy says it in the movie too, and I don't know exactly what it means, but it implies they want to make a whole series of these fuckin things. Could be the new SAW or STEP UP.
I liked going into this movie not knowing much about it, because it kept me completely off balance. It takes place in a nondescript area, some trees, a couple roads, one house, could be just about anywhere, and I was surprised to find out it was supposed to be Germany. The protagonists are two American girls who don't speak or understand German and a Japanese guy who only speaks Japanese, so nobody else knows what he's saying (except us, using the power of subtitles). On the credits you see names like "Dieter Laser" (the star), "Tom Six" (the director) and "Holeg Spies" (music) and you wonder if these are even real names or if nobody wanted to take credit for this.
But it's well made, shot like a real movie, and actually not very graphic at all if that's what you're worried about. It's only incredibly god damn disgusting in what it makes you think about, not what it shows. I'm sure soon enough this will seem like a tame idea and there will be jokes about it on all children's cartoons, but right now the idea of (HERE IS THE SPOILER) having your mouth sewn to some guy's ass and forced to swallow his shit and then shit that out into somebody else's mouth is considered a little bit, you know, unrefined. Indelicate.
The Human Centipede character is going to be a fucking phenomenon – expect dozens of ass-to-mouth-to-ass-to-mouth costumes at next year's Comics Con. Expect a hundred cuddly stuffed critters and collectable action dolls. In fact Human Centipeding will probly become a common fun activity for youths like flash mobs, streaking or parkour.
So okay, these American tourist club girls get a flat tire and find themselves knocking on the absolute worst door looking for help. I mean really, if you think about it they very well could've knocked on the door of another psychotic doctor who drugs and tortures them, at least chances are in favor of the guy torturing them in some old fashioned way that's not nearly as bad as this human centipede business. So this is just some really, really, really, really, really bad on luck on the part of these poor girls. Before the shit goes down they seem kind of stupid and whiny, like the type of characters normally associated with bad horror movies, but even though I don't relate to them I immediately feel bad for them when they get in this situation.
In fact this is the rare horror movie where you're feeling bad not just for the characters but also the actors for having to crawl around with a harness attached their face near somebody else's ass. They have bandages to cover it up so I'm sure they're not really smelling the ass, but it couldn't have been fun, in my opinion.
I think the sickest aspect of the movie though is that it kind of makes you want to see how this whole human centipede thing is gonna work. Once the doctor has revealed his plans (in fact he draws out a diagram and explains to the victims what he's about to do to them and how beautiful it's gonna be) one of the girls escapes and there's your usual slasher movie type cat and mouse chase. Normally what makes a sequence like that work is that you want to see the girl escape, you're rooting for her. But in this movie you're torn between "jeez, I hope she gets away" and "well, if they're gonna make a movie about this idea they better have the balls to actually do it." I mean don't get me wrong, in my personal opinion this experiment has no scientific validity. But it would be kind of pointless to make a human centipede movie without a human centipede. And the movie made me feel bad for realizing that.
Don't worry though, it's all in fun. I mean that honestly. As much as this is based on a foul and cruel idea it's not as far as I can tell one of those pretentious ones that thinks it's showing the world some tough love by rubbing their nose in the ugliness. It actually has a very dry, very dark sense of humor I think. It's not played for laughs but this guy's particular brand of evil is so absurd that there is some humor in stumbling across it. Or at least it's funny to see him carry an unconscious man and a rifle from the car to the house awkwardly like he's trying to carry too many groceries at once.
I thought Dieter Laser was very good. I think I've heard people say he was too over-the-top evil, but I don't agree with that. I mean yeah, maybe he's over-the-top evil in the sense that if he was your neighbor you might say "that guy creeps me out, he seems like some Nazi doctor or something," but you wouldn't believe that to be literally true. He just seems like a weird unfriendly guy. He's mostly very quiet and only very occasionally gets worked up into hysterics and evil giggling. I buy it.
The character says that he's an expert at separating Siamese twins, so you realize he gives those DEAD RINGERS twins a run for their money in the freaky fuckin weirdo department, and that's saying something. I wonder if they met on a separating Siamese twins chat room or convention somewhere if they would get along. I think they probly wouldn't. They'd probly be intensely jealous of each other, be completely hypercritical of each other's work and become bitter rivals. They'd call each other hacks, charlatans and posers.
It's not as menacing as it probly sounds. It reminds me of something Stuart Gordon would do, although he'd probly put some gore in it. I mean, no offense to Stuart Gordon, I'm not trying to say that he would think about sewing mouths to butts. But if he did think of that, or if somebody else gave him a script about that or whatever, maybe he would've made a movie kind of like this. I'm sorry Stuart Gordon. I didn't mean to implicate you in this. Never mind. Stuart Gordon had nothing to do with human centipedes. It's not his style.
When I tell people I saw this they ask "Did you like it?," which is a legitimate question. I'm not sure I got a legitimate answer though. I think I did kind of like it. It was interesting to watch and see what unfolded. I don't regret it. But I would like it better if at the end they reared up like a horse and beat the shit out of him. That would be some freaky ass revenge right there.
I'm not looking forward to the second sequence unless they get a big budget from a studio and try to make it more mainstream accessible, like PHANTASM 2 or ARMY OF DARKNESS. I'm sure James LeGros would make a good centipedologist.