If you've ever seen TROLL 2 you know what a weirdly terrible movie it is. A little boy discovers that his town of Nilbog is secretly overrun by goblins who are feeding the humans foods that turn them into plants so they can be eaten by the goblins, who are vegetarians. (Ever thought of that, Tofurkey people? Just turn real turkeys into plants and sell 'em!) The main thing I remember from the movie is that nobody believes the kid that they shouldn't eat the food, so he stands up on a table and pisses all over it.
Well, that kid was Michael Stephenson, he's now grown up, has a sense of humor about the thing, and has written and directed a documentary about it. A little under a third of BEST WORST MOVIE is the type of deal you expect: interviews with "fans" about their TROLL 2 parties, their homemade masks and childhood memories, and scenes of the cast finally enjoying the limelight as the movie is rediscovered and enjoyed in revival screenings, even if it's in a sarcastic or ironic type of way. Some of this material would be a pretty good DVD extra, some gets a little tedious. But it's well worth sitting through for the rest of the movie, which in my opinion comes close to True Greatness in its exploration of relative fame, abandoned dreams, the subjectivity of art and the dangers of smug hipsterism.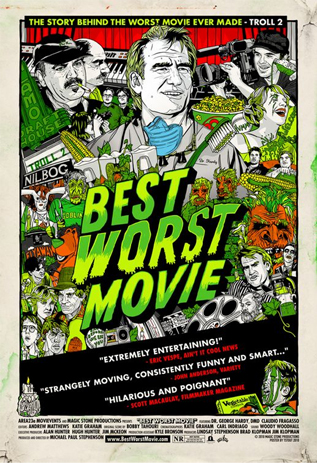 The movie begins by showing us the life of Dr. George Harding, a perpetually smiling dentist and beloved member of the community in a small town in Alabama. He's so well-liked that even his ex-wife gushes about him on camera. He does free dental work for poor kids, he wears a fat suit and rollerblades in an annual parade, and most people don't know that he played the dad in TROLL 2.
I always wonder what happens to the actors who appear in movies like TROLL 2. Of course there are the ones like Jennifer Aniston in LEPRECHAUN that use it as a stepping stone for bigger things, but most cast members of movies like that maybe get a few more credits and then disappear. If any. And you wonder, did they really want to be an actor, or did they just happen to live in the area or know the right person and do it on a lark? Did they keep trying after that, or did they give up right away? Is it something they think about alot, or did they just move on as a normal person? Well, here's one of those people and he'll answer all of those questions.
When Dr. Harding finds out about some comedians at the Upright Citizens Brigade Theater showing the movie for laughs he's thrilled and arranges to make an appearance there. The screening is sold out, hugely successful and George is riled up by the hosts and audience to re-enact one of the many goofy lines in the movie: "You can't piss on hospitality! I WON'T ALLOW IT!" He seems a little befuddled by all the excitement, but loves the attention, and he and a few of the other cast members begin to tour to different cities for more of these screenings of what somebody apparently tells him is "the MySpace Generation's ROCKY HORROR."
Another thing you always wonder about is how the people in a movie like that feel about being in a movie like that. Do they think it's good? Were they trying to do a good job? In this case we learn from almost every actor that when they first saw it – on HBO or video, since it didn't make it to theaters as planned – they felt crushed and embarrassed. On set they figured the director knew what he was doing, but their minds changed when they saw the finished product. So it's kind of a gift for them now that it's found a cult following as a "bad movie." They can laugh about it and have fun signing autographs and telling stories about the Italian director telling them how Americans talk and things like that. It's not as hurtful anymore, like it was when poor Connie McFarland scrolled through the IMDb user reviews and saw comment after comment singling her out as being terrible.
Still, it feels a little uncomfortable watching "fans" line up outside the Alamo Drafthouse or whatever to laugh at these people's crushed dreams, saying that TROLL 2 "rules!!!" and being real proud of themselves. Don't get me wrong. I know my hands have blood on them too. I enjoy "bad movies" including but not limited to TROLL 2. And I don't want to accuse the people in this documentary of being jerks. In fact, one guy shown alot in the movie used to do movie events in Seattle and Olympia and is a cool guy with a passion for finding movies like this and showing them to other people. But I just feel like somewhere there's a blurry line that separates having-fun-with-a-movie-that-didn't-turn-out-as-expected from laughing-at-people-you-don't-know-and-calling-them-stupid, and when these things seem to bump against that line it bothers me, even if the kid from the movie is the one showing us all this irony.
Enter the Italians. The director Claudio Fragasso and his wife/co-screenwriter Rosella Drudi believe the movie is good, and they explain why. They know it got bad reviews and did poorly financially, but they believe in it. And either something was lost in translation or somebody's lying to them because they agree to fly in to the States for a screening and seem to think their work is finally being appreciated.
So now we see some Rainn Wilson-looking dude in a fedora making fun of the movie as he introduces it to a large audience, the director sitting in the front row just fuming like he wants to make a vegetable out of this guy and dip him in Ranch dressing. During the Q&A afterwards some prick in the audience (I'll make an exception just for this guy, I don't see how not to label this guy as a prick) asks condescendingly, "Why did you call it TROLL 2 when there's not a single troll in it?" Claudio doesn't understand the question because of the language barrier and because of not knowing that there are adults in the U.S. who feel it's vitally important to make a distinction between trolls and goblins. But the guy keeps repeating the question verbatim, each time increasing the level of douchiness in his tone.
Claudio confers with his translator. Why does he say there's no trolls? Because you call them goblins. He yells, "YOU KNOW NOTHING!"
So you could say that Fragasso  is deluded. It's hard to argue that the people are wrong about this movie. But still I gotta root for this guy. His sincere pride in the movie trumps our sarcastic fandom. You at least gotta respect him as a human being, be polite, appreciate that what he made is unusual enough that you enjoy watching it. You definitely shouldn't talk to him in the insulting tone that this questioner did. So it's funny to see him clash with these people. Later, at a Rolling Roadshow screening, the cast talks about not seeing the script while Fragasso paces in the audience occasionally yelling that they're liars and dogs. Hilariously uncomfortable.
Meanwhile, George Harding is going on this journey. To answer my earlier question, he always wanted to be a movie star. So leaving the ironic adulation and the lines around the block to return to his dental practice leaves him feeling a little empty. We see what happens when he starts taking it too seriously. And we get some laughs as he tries to explain to his patients why TROLL 2 is funny, expecting them to laugh at the "piss on hospitality" line. I mean, those college kids in Austin laughed when he said it, why not these old ladies he's giving fillings to in Alabama?
I've mentioned before my fascination with the phenomenon of horror conventions, and how sad it is seeing these actors who are important icons to me sitting bored at a table waiting for somebody to pay them $25 for an autograph. Harding experiences this first hand, and finally understands the drawbacks to being in a cult movie. He doesn't like horror movies and seems kind of spooked by the cast members of NIGHTMARE ON ELM STREET sequels. And he has an awkward moment talking to John Schneider from The Dukes of Hazzard.
Stephenson and Harding also track down the last major cast member, Margo Prey, who played the mother. It's an amazing scene combining a sweet mother-son relationship between the actors and some big laughs about Harding being creeped out and repeatedly putting his jacket on to signal that it's time to leave. Seeing Prey's reclusive lifestyle seems to be just what Harding needed to appreciate what he has.
I think because of his age Stephenson is in a unique position to understand all this. He's of the generation that gets a kick out of the cheesy movies of the '80s and early '90s, he's young enough to understand the internet, cult movies and ironic worship of pop culture. But also he was there, and he remembers the misery of thinking he was gonna be a child star only to just be the kid from TROLL 2. He knows these people personally and shares memories with them, and now relates to them as an adult. So when they get together and goof around and re-enact scenes from the movie there's a sweet sort of bonding. I really liked these people, warts and all.
So now Stephenson has made two lasting contributions to the culture: a uniquely bad movie and an insightful documentary. I'd say that's better than being on the cover of Tiger Beat for a while.
. . .
Best Worst Movie plays the Central Cinema in Seattle starting today and has dates in other cities throughout the summer.
This entry was posted on Friday, June 18th, 2010 at 1:38 pm and is filed under
Documentary
,
Reviews
. You can follow any responses to this entry through the
RSS 2.0
feed. You can skip to the end and leave a response. Pinging is currently not allowed.