I wanted to watch a Charles Bronson movie, accidentally picked one where he doesn't show up until 25 minutes in. He doesn't ride in on the rain – the title refers to a different dude, a bald weirdo who a lady named Mellie (Marlene Jobert) sees getting off of a bus. Later he starts peeping on her and then actually attacks her.
Let's not beat around the bush here, he is a maniac and he rapes her. And unfortunately when she calls the police she chickens out and hangs up. Then she discovers he's in her house again but she has a shotgun so she does what Paul Kersey would've done about it.
We all know this is a legit self defense shooting, but the poor gal tries to cover it up. Maybe she doesn't think people will understand, even worse maybe she thinks it's shameful for people to know she was raped. She hides the body and doesn't tell anybody what happened, including her husband Tony (Gabriele Tinti), an airline pilot who's so out of touch with her that when he gets home he seems to think she's cheating on him. She makes up a bunch of lies to cover up where she went when she ditched the body, why there's a button missing on her dress, etc.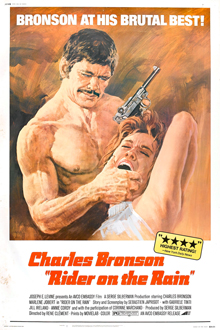 Bronson shows up when she's at a wedding. He gets the people in a crowd to pass a newspaper up to her, one folded over to an article about a dead body found on the beach. She turns and sees him across the crowd and he smiles at her.
His name is Dobbs. Who Dobbs is and what he's up to is a mystery at first, but he says he's not a cop, he seems to know what she did (if not why) and he's trying to prove it. Also, he's looking for a bag that the rapist had with him. Seems to think she has it or can figure out where it is.
One little quirk about Dobbs is that he loves doing this trick of throwing a walnut against a window so that the shell will break open. When other people (including Mellie) try it they just break the window. RIDER ON THE RAIN is a pretty cool title but in my opinion it should be called THE NUTCRACKERS, because he cracks nuts and she shoots rapists.
There are some odd things about Mellie too, which we find out over the course of the movie. She says the word "saxophone" instead of cursing. She's sort of afraid of quarters. Her parents almost named her Melanie but changed it to Melancholy, somehow predicting that she was gonna be sad all the time. Also, the rapist's parents apparently predicted his part in this story when they named him Mack Guffin.
What all this means is that it's a hip French movie made in the late '60s. It's from the director Rene Clement, who also did PURPLE NOON. IMDb lists him as the director (uncredited) of Jean Cocteau's BEAUTY AND THE BEAST. Not sure about that one, but he was around, anyway. He had some credibilitty.
Even though it's not really a Bronson vehicle our guy is genuinely badass in it. Not in an enlightened way, though. If you would prefer to see Bronson play a character who does not threaten to literally put the heroine over his knee and spank her, this is not the movie for you. And while he doesn't serious hurt her he doesn't have a problem shoving her around to make her think he's gonna. There is a short but excellent fight scene where he pushes a brothel madame by the face then tackles and punches out a bunch of thugs, knocking over some stools and everything. I mean, I'm sure it was pretty easy to get the stools back in order, but it still emphasizes the point. It's punctuation.
I actually had meant to watch FAREWELL FRIEND, which is on the same DVD, but this copy froze up a few minutes in. Fortunately since I was able to get RIDER ON THE RAIN to play without incident it wasn't a total wash. If you want to see pretty French girls with short hair and fashionable clothes accompanied by dreamy organ and electric piano and then Charles Bronson runs in, force-feeds her liquor, flips a guy over and punches a guy, this is the movie for you.