I think the end of the Bush era killed most of the demand for left wing documentaries. I think I heard Robert Greenwald is managing a food co-op or something.
Remember when FAHRENHEIT 9-11 came out? It was a phenomenon. I remember I tried to get tickets online and literally every show in Seattle was sold out. I had to go out of town to wait in a long line to see it. It seemed like such a huge deal then because it was like shit, finally. Finally somebody saying something.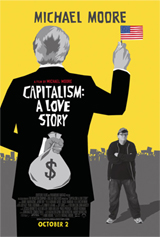 Then Bush got another 4 years and we lived through that, and we had a chance to pin our hopes on an actual president instead of a mere documentary/film essay. And either we're still doing that or we've given up or whatever but without the right wingers in power for the time being there's not that appetite for somebody or something to blow the lid off of their nefarious deeds or whatever. When his new one CAPITALISM: A LOVE STORY came out I wanted to see it, but instead I saw A SERIOUS MAN, WHIP IT, and ZOMBIELAND, which all came out on the same day. Uh, sorry Michael Moore. I hear ya buddy, but also I like girls on rollerskates. You know how it is.
You gotta admit, even if his movies aren't in as high of demand, they're pretty god damn prescient. Can you believe he made SICKO a couple years ago? Maybe if that came out this year we could've gotten some more serious reforms, who knows. Then he makes this movie in the midst of the economic collapse. Makes me afraid to find out what he's working on next.
Like his other movies this is sort of a narrated personal essay illustrated with campy stock footage and woven around documentary vignettes about different people around the country facing problems that uniquely illustrate what this problem is. There are a few of those Michael Moore being told by security he can't enter the building scenes, but I think he knows that's gotten old. He returns to the GM building for old time's sake (I mean, this could almost be a sequel to ROGER AND ME) but at the end, as he's putting crime scene tape around the Merril Lynch building and saying through a megaphone that he's there to make a citizen's arrest, his narration pleads for people to rise up because "I can't keep doing this stuff." It comes across like this might be his last movie, like he doesn't know where to go from here.
I wish I could find a better picture for the thumbnail there because those scenes are few and far between. That's a funny moment though because that security guard puts his hand over the camera, and his supervisor (who seems like a nice guy) scolds, "Don't do that." They've learned that looks bad, because they've seen Michael Moore's movies.
But the real meat of the movie is the stories of people losing their houses, of a guy who calls himself "the vulture" because he snatches up condos from people who go bankrupt, of a widow who found out Wal-Mart profited from her husband's death by secretly taking out life insurance on him. Ever since his TV show Moore has been pretty good about uncovering the craziest shit I never heard about and embarrassing companies into stopping. Can you believe that shit? Anyway these are interesting characters to watch, that's why it's a good movie. But also their stories work together to show a system out of control with no brakes and probly not even watching the road because the prick is checking his text messages.
The most memorable scene is not something Moore shot, it's a home video taken by a family waiting for the sheriff to come kick them out of their house. Through the window they watch seven cop cars drive in from the distance and up to the house. Then the family sits down in the living room and waits calmly while the sheriff and his deputies try to pound through the door. They call and make it very clear that they will not resist, they will go peacefully, but they're gonna make him come in and get them because they're not gonna pretend this shit is okay and just go along with it. This video is scarier than PARANORMAL ACTIVITY.
Moore makes a persuasive argument for this crisis being rooted in the Reagan years. He argues that when he was growing up the rich paid much higher taxes but they were happy and Americans were better taken care of. He calls Reagan a spokesmodel for Wall Street, shows how his philosophy of deregulating, privatizing, cutting taxes and programs inevitably leads to the mess we're in now. Yeah, it turns out that if you allow businesses to do anything to get money and encourage people to be greedy and not help anybody else then sometimes bad stuff happens. Who'd've figured? Weird.
Later Moore talks about the election of Obama and how it seemed like an amazing piece of luck, that maybe we somehow got a good guy through and he's gonna put an end to corporate rule. And he sure doesn't imply that Obama is that guy, but reflects on what it was like to have some hope for that. I like these parts of the movie, I agree with him, but I almost wish he'd left them out just to fuck with the minds of the tea partying individuals. Because the partisan parts of the movie are a small percentage of it and the rest is very populist. It's all fury at banks and at Congress and at the bailout. It would be funny to see some of those peoples' heads pop like bubbles when they agreed with a Michael Moore movie.
That simplicity is a problem with the movie though. I don't understand economics. To me the bailout does seem like a huge premeditated scam, just like the movie says. That's the obvious response. But we have also heard from economists that yes, it's terrible, but unfortunately it had to be done because the alternative of letting the banks fail would be catastrophic. Is that true? I got no idea. But the movie doesn't refute it, or mention it. It just sticks with being mad about at the politicians for the bailout. Well, we can sure do that, but what should they have done? Should they have stood on principle and said "I refuse to negotiate with bankers" if it was gonna make everything way worse? I don't know.
So as far as understanding the problem and the solutions I don't know about CAPITALISM. But as a record of what's going on and a passionate (but still cleverly-illustrated) cry for Americans to put morals and human dignity above dead presidents it's a good one. I liked it.
For me maybe the most profound moment is in the scene about an act of civil disobedience, when a neighborhood decides to occupy a house that a family had been thrown out of. So it turns into a face-off with the poor guy who's supposed to lock the doors and keep them out. He argues with them on a "well, they didn't pay their bills" basis.
It's not this guy's fault. He didn't cause any of these problems. He's just a tool. But as somebody in the crowd asks, how can he be willing to be that tool? You have to pay your bills but do you really feel good paying your bills by pushing people out of their homes onto the streets?
Moore is really good at making this point: You gotta draw the line somewhere. You can't always get away with not being the direct cause. You can't always pull a Jay Leno. At some point you gotta say man, I won't do that, I don't care how much you pay me. I think this man is thinking about that, you can see it on his face. He's not a monster. He's a human being, but he's being forced to look at something he might've conveniently averted his eyes from before.
At the end it says that they decided to let the family stay in the house. I'm not sure what happened there, but it's nice that they figured something out. Call me a pinko or a Jesus freak but I figure it's always better to try to help your fellow man than to tell him "tough shit."
This entry was posted on Tuesday, March 23rd, 2010 at 7:46 pm and is filed under
Documentary
,
Reviews
. You can follow any responses to this entry through the
RSS 2.0
feed. You can skip to the end and leave a response. Pinging is currently not allowed.