UP IN THE AIR looks like a good candidate for the LITTLE MISS SUNSHINE of the year – the one I like but I'm kind of baffled by how intense the praise is during Critic's Christmastime, the Season of Bountiful Awards and Lists. If I didn't foresee that possibility I might not even review it – after all I recently discovered I didn't even do a writeup of SNIPER, why would I bother with this? But this way if I start resenting it I can read this and get some perspective. I'll have a record that I thought it was a pretty good movie.
It's the story of Ryan Bingham, a guy who flies around the country to lay people off. He works for a company hired by other companies too chickenshit to swing the ax themselves. He has a whole rap about how you weren't meant to be stuck in this job and you need to take this opportunity to follow your dreams. He's good but, come on, people aren't really buying it, except out of desperation.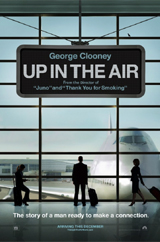 He loves that job, prefers staying in hotels to having a home, and is obsessed with frequent flyer miles and gold cards and shit. He's distanced from his family (even with his little sister about to get married) and mostly just interacts with one night stands. I guess he would be a despicable character except he's played by America's top charmer George Clooney, so you totally want to be his buddy.
Then one day his company decides to start firing people via teleconferencing instead of face-to-face, so his whole world is threatened. His boss (Jason Bateman of you know what part Too) lets him stay on the road for a little bit, but only to show the young creator of the new system (Anna Kendrick) how he does it. You may be surprised to learn that they resent each other, then learn from each other, etc. (SPOILER). But both actors are good enough to make it work.
Vera Farmiga (who is on my radar now after being cool enough to be in ORPHAN) is funny and sexy as a traveling woman he starts to meet up with who causes him to reconsider what he wants in life. To the credit of the script by director Jason Reitman it doesn't hammer you on the head with the many ironies of the story: that this guy who lays people off as their industries change is now becoming obsolete himself, that the cold-hearted job terminator hates the new system because it's so harsh and impersonal, that the creator of that inhuman approach is the one who inspires him to be a better person, that when faced with a change in his job he uses it as an opportunity for personal growth just like he told the people he fired to do. At the time it seemed like bullshit, but here he is living it.
The whole cast is good, and there are lots of small parts – Zach Galifinakas as a guy he fires, Sam Neill Elliott as a pilot, Danny McBride as his new brother-in-law (not as funny as he usually gets to be, but nice to see him getting a dramatic scene or two). The best cameo though is Young MC as himself, performing "Bust a Move" at a tech conference Ryan and friends crash. It's not at all a wacky "he has a sense of humor about himself" scene. They show him respect, Clooney sings along and everybody's having fun. But you know they're thinking the same thing you are: man, Young MC is big now. And he's still doing "Bust a Move." At a conference for software engineers. Man, we're getting old. Totally brilliant scene. And much respect to Young MC for having the humility to do it.
For the first half of the movie or so I was enjoying it but it wasn't really hitting my emotions, even though these people are losing their jobs and these characters are pretty good. But then when it got into the family stuff toward the end it started to work more. Maybe it's just the stuff I related to more, I don't know. The part that really got me is a scene where Ryan and his two sisters are left standing alone together for the first time in years and suddenly they don't know what to say to each other, it's very awkward. Heartbreaking, man. But I can't really tell if it's earned, if it's because the movie is working or just because it happened to hit on something that's true.
If you compare the subtext to a movie like FIGHT CLUB it almost seems like they're opposites. Ryan has this motivational speech he gives that's about living out of your backpack. It's partly a metaphor about not having attachments to other people (like a Jedi) but also it's literally talking about not having a bunch of belongings to weigh you down when you could be traveling around all the time (like a monk, or like Jack in TITANIC). But the movie is definitely arguing against this backpack philosophy. It doesn't like how he just has a crappy apartment with nothing in it that doesn't feel like home when he gets there. It wants him to be traditional and settle down and have a place with stuff in it. But I'm not saying this is a conservative, materialistic message. I mean, if he realizes he's spent enough time with one night stands he meets at airport bars I think yeah, he should settle down.
The movie started getting strong awards buzz before it came out because the National Board of Review chose it as the movie of the year. I looked up who's in the NBR, and apparently it's 110 "selected knowledgeable film enthusiasts, academics, filmmakers, and students in the New York metropolitan area." I'm not sure who that would mean so I'm not sure if my theory is sound, but I'm guessing alot of them are critics writing for newspapers and magazines, worried that they're going to lose their jobs, and facing those questions of deciding what they want to do with their life after they previously thought they had that all figured out. If I'm right I think that's a legitimate reason to love the movie, but it also would explain why they're holding it up as the very best when some of us just think it's pretty good. It's just something that's gonna speak to those New Yorkers right now the same way that dog spoke to David Berkowitz. Except in a more positive, constructive kind of way.
Not a bad movie.