PORKY'S REVENGE is part 3, done in 1985 without Bob Clark or taste. The whole cast does return, looking a little ridiculous since most of them are 30 years old playing high school seniors. This time the gang are all on the basketball team (without any teen wolves to guarantee victory) and alot of the plot revolves around the state championship game. So get ready to pretend to care.
Porky does return and is out for revenge. He tries to do that by forcing Meat to marry his daughter and provide an heir to the Porky's business empire. Porky shouldn't actually be that mad at the kids though in my opinion because their cruelty actually gave him that extra nudge to drastically improve his life – he replaced his demolished night club with a god damn riverboat casino!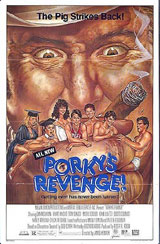 That familiar cartoon pig neon sign is now flashing on top of an aquatic mobile party palace. It looks cool and it gives him every reason to just float away if some punk kids from Angel Beach keep messing with him. In fact, if he gets into trouble that his sheriff brother can't get him out of he can just row himself out to international waters. Or if he's in a Sonny Crockett mood he can stop by Cuba for some mojitos.
If you think about the original PORKY'S it had a clever way of escalating the conflict with Porky. The plot is very episodic, but throughout various events the boys are sort of babysitting the one guy, trying to make sure he doesn't go back to mess with Porky. But he keeps sneaking away and coming back beaten to a pulp, every time convinced that it was worth it and he won't fail next time. You don't see the beatings, it's all off screen until at the end they all go back to Porky's to blow it up. It's a very clever way to tell the story.
But PORKY'S REVENGE is more like a sitcom. I mean, Porky has a daughter with a hot body and ugly face who molests Meat. And they're supposed to throw the big game. And Balbricker has a millionaire long lost love. And they photograph two of their teachers dressing up in bondage costumes. And whatsisdick is tricked into fucking Balbricker in the dark. Just every stupid idea they could come up with. Everything but a guy who does wacky sound effects.
And it's less cinematic, it looks more like your standard '80s teen comedy. Gymnasium lights are unforgiving. And the music is standard too, but I got a laugh (unintentional, I think) when they set out for Porky's at night and suddenly it had dramatic keyboards and guitars exactly like a serious action movie of the era.
The new director is James Komack, who directed the pilot of WELCOME BACK KOTTER and might have been Milton Berle's illegitimate son. It was his feature directorial debut, and he later wrote BACK TO THE BEACH. He died in '97, so he won't be able to do another one. But I'm still hoping for a part 4 with the original cast, but now they're in college.
To answer a question from the PORKY'S comments no, Porky does not actually get his revenge. He puts them through some trouble but I don't feel he is satisfied by the ultimate outcome or feels that any sort of justice or balance has been achieved. But I do think PORKY'S REVENGE is a more accurate title than FREDDY'S REVENGE was. At least it's PORKY'S ATTEMPTED REVENGE. In Elm Street 2 Freddy wasn't avenging anything, he was just trying to enter the real world through the body of a guy who moved into the house where he had tried to get revenge on the previous owners.
But what good is revenge, anyway? Hasn't Porky seen LAST HOUSE ON THE LEFT (original)? When you try to get revenge you're only sinking to the savage level of your enemy. You're degrading yourself. You, Porky, should hold your fat head high. But it would've been cool if he did get revenge on them and that was the end of the movie. That would've thrown some people for a loop.
Would Porky have felt closure if he had blown up the school or cut off Meat's meat or something? I don't think so. I think you gotta move on. Hell, when those kids turn 21 they could end up being Porky's best customers. Or they could work for him. Meat would definitely make a good bouncer or male stripper if they ever open Porky's For Her. They could all get along. I mean, look what happened to Miss Balbricker. She grabbed the one guy's dick and tried to censor Shakespeare and accidentally fucked the one guy in the dark and then called him a pervert, but the gang still felt bad and hooked her up with her long lost love, which turned her instantly cool. People can change. Let's work this stuff out.
This entry was posted on Monday, September 28th, 2009 at 11:47 pm and is filed under
Comedy/Laffs
,
Reviews
. You can follow any responses to this entry through the
RSS 2.0
feed. You can skip to the end and leave a response. Pinging is currently not allowed.