After revisiting THE RUNNING MAN I decided it would be a good time to catch up on a more recent Schwarzenegger movie I had skipped before.
COLLATERAL DAMAGE is a dumb movie, and not the good kind of dumb. On paper it sounds like it has a zeitgeisty post-911 exploitation revenge premise, but it completely fails to deliver on that premise. It supposedly (according to director Andrew Davis in the DVD extras) means to subvert expectations by having a hero who saves lives instead of takes them, but that point gets muddled too. It's not a good action movie and it sure as shit doesn't come across as an effective drama about war, terrorism, interventionism, the cyclical nature of violence, or intercontinental travel.
Arnold Schwarzenegger plays Gordy Brewer, fireman. One day he's going to pick up his wife and kid, gets there a little late, but just in time to see them get blown up by a terrorist attack. (If you ever see your family from a distance and you're all smiling and waving lovingly as you approach each other, that means they're about to be killed so be careful.) He sees the guy responsible (Cliff Curtis, American authority figure in LIVE FREE OR DIE HARD, Colombian terrorist in this one) disguised as a motorcycle cop, so various FBI and CIA types question him and he gets an inside look at the investigation.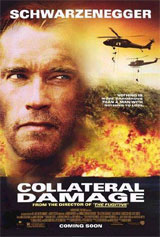 Brewer (or "the fireman" as most people refer to him in the movie) wants the terrorists killed, but an asshole CIA guy (Elias Koteas) can't get the politicians excited for a war. So Brewer decides to take international law into his own hands. By the time a friend-of-a-friend who was a military advisor in Colombia comes over to talk to him he's already turned his house into a headquarters with maps and articles all over the walls. He gets himself a fake passport, sneaks into Colombia through Panama, and tries to track down the motherfucker who blew up his family.
If this had come out before 9-11, it would've been a fun action/revenge premise. It came out in February 2002 though, so for an American it was impossible not to think of it in a little more real world terms, like, what if your loved ones were killed at the World Trade Center or the Pentagon and you decided to track down Osama bin Laden yourself? Kind of ridiculous and pandering to our base emotions but that's okay, it could still work. Unfortunately, any satisfaction you would expect to get out of that premise, don't expect to get it. He gets to Colombia and has a series of travelling mishaps, such as a silly waterfall drop with made-for-cable level CGI.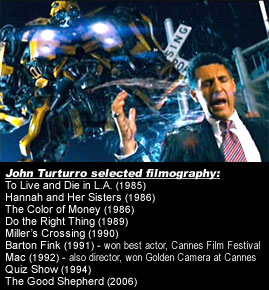 He runs into John Turturro, a Canadian helping the guerillas who decides to help him instead, and John Leguizamo, who wears a Metallica t-shirt. He gets locked up for a while. He stops the mugging of a pretty lady and her son, who turn out to be the terrorist's wife and adopted kid. They made tough-guys-starting-their-own-international-conflicts movies like this in the '80s, like UNCOMMON VALOR for example, and those might've been silly but they sure seem  realistic compared to this. And more entertaining.
The screenplay deflates the whole revenge angle pretty much right when he gets to Colombia, because "El Lobo" (yes, the terrorist is called El Lobo, because it's the only Spanish word everybody knows besides "gracias,"  – and then they still gotta call him "The Wolf" most of the time just to be safe) finds out right away that "the fireman" is here, and is happy about it because he can use a hostage. Isn't the whole idea of this fantasy that terrorists kill his family, he feels helpless, but he actually says fuck it, goes through all the trouble and danger to travel across the continent, break the law, sneak in, defy death, track this motherfucker down and then when they come face to face shouldn't the guy's reaction be "what the– how the fuck did– but you're not supposed to be– ?" Or at least "Who the fuck are you!?" This movie is not interested in that.
The Fireman does get a chance to talk to El Lobo and exchange points of view. He fails to kill him but at least gets to bite off a henchman's ear, that's pretty cool. Then El Lobo goes back to Washington for another bombing, so he just has to follow him back. He does bring El Lobo's wife and kid with him, that's pretty funny. They go willingly and just act like they're his family.
There's a plot twist that doesn't make much sense, and the climax is a pretty half-assed chase. He gets to use a fire ax as a weapon, which is a plus. He also uses it to puncture a gasline. It's always disappointing to see employees of the fire department intentionally causing fires, but at least this guy's not on the clock (unlike Van Damme in SUDDEN DEATH).
There's alot of recognizable faces in the cast. In addition to the people already mentioned they also got Harry Lennix (Aaron from TITUS) as a cop and Jane Lynch (from Christopher Guest movies, 40 YEAR OLD VIRGIN, ROLE MODELS) in a non-improv role where she gets her neck snapped.
At the time this came out the title kind of bothered me. We were in Afghanistan and it was obvious that Iraq would be next. "Collateral damage" is a military term for innocent civilians that get killed in war, so I thought it was kind of sleazy to use it for an action movie that's not even exactly about that. Now it doesn't really bug me, but it doesn't make much sense either. The way they get the term into the movie is that a spokesman for a group sympathetic to the guerillas says on TV that the deaths of his wife and kid are unfortunate but "collateral damage." That part was five alarm bullshit because no way there is some "spokesman" who comes on TV right after a terrorist attack on American soil and is given the opportunity to defend the terrorists.
(It does lead to the most satisfying part in the movie, when Brewer pulls a Buford Pusser on this political committee's office and they don't know what hit them.)
Maybe part of the reason this movie is so bad is because it was actually made before 9-11. It seems like it's made to exploit it but apparently they were finishing it up in September 2001. It's funny that the hero is a fireman and you even see him drinking out of an American flag mug – it seems like such blatant pandering, but it's just a coincidence. They were dealing with trying to make a Schwarzenegger movie when he was getting older and his style of action movie was getting replaced. They didn't know they were also gonna have to face a changing world where this type of scenario would be held up against current events and be shown for how phony it is.
As far as dealing with Schwarzenegger's age, that's a small problem of its own. Personally I like to see how action heroes change as they get older, but I guess alot of people just want them to stay 25 forever. So poor Arnold is all painted up to try to look perfect. The color of his hair and eyebrows look fake like a behind the scenes shot of a dummy from T2 or TOTAL RECALL. I wish they'd just let him get grizzled and Eastwoodesque, that would be a sight to see. Anyway, this is not one of his better characters, but I did appreciate the fact that he got to do some emotional expressions once or twice. The look on his face right after losing his family is actually pretty good acting I think.
Davis was a great director at the time he did ABOVE THE LAW and UNDER SIEGE, then he got a best director nomination for THE FUGITIVE, then he fizzled out. He used to really create a sense of place with all the sound and these great shots of the locations, and he'd put a little bit of subtext into a solid action movie. I guess that's what he's trying here but it just fails, and there are lots of awkward cuts and voiceovers that honestly remind me of some of the Seagal DTV movies. It just feels half-assed and incomplete and fails to really hit any of the beats it really needs to hit hard.
I can't tell if he was really trying to make a thoughtful anti-violence action movie like he says, or if that was just some fooling-himself bullshit he made up for the DVD extras because it was that brief period when Americans weren't sure how to feel about action movies after 9-11. But if he's sincere then he didn't really pull it off. Like many great action movies (including UNDER SIEGE) there's the scene where you find out the hero and villain have alot in common. El Lobo was a regular guy who became a guerilla because of the death of his daughter, sort of like The Fireman becoming an avenger because of the death of his wife and son. So you got your all important Villain Point-of-View established, but they seem to forget about that when his wife has to make a change of plans and leave her son behind in a building that's gonna blow up. You think "Oh man, that's cold-hearted" but then her escape plan is to hop on the back of a motorcycle – I don't see no sidecar for the kid. And dad doesn't say anything. I guess I could interpret this as a demonstration of how the quest for revenge has caused them to lose track of what they cared about in the beginning, but I don't think that's what the screenwriters meant, I think they just got lazy.
It does lead to an unintentional laugh when Schwarzenegger seems to claim their son as his own at the end. He killed the bad guy so he gets to keep any surviving family members. I'm not sure the courts would agree but everybody at the scene seems to think it's okay.