This is a cartoon but its not for kids and its not Japanese. If you don't know in japan the cartoons are not only for kids, there is also demon raping, etc.
Bruce plays Muddy Grimes, a scruffly dude not unlike myself who tries to con two dumb heavy metal kids into smuggling a powerful weapon for him. Bruce does not have as much screen time as you would like but the story of these two little pricks Butthead and Beavis is pretty funny. Kind of reminds me of the old pink panthers how they go around and get chased by the FBI and then save the day and have no clue any of this shit went down.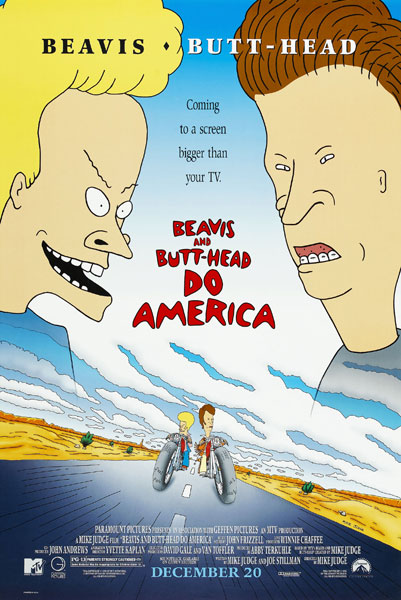 What this has is a lot of dick jokes and masturbating but in my opinion there is a bit more going on then that. This film uses the satire when various law enforcement branches strip search and violate innocent bystanders and make fun of them for invoking the constitution. There are sly cultural references and what not with Chelsea Clinton, a psychedelic sequence, a ridiculous Engelbert Humperdinck tune called "Lesbian Seagull," etc. The cartoonists are very observant about the values of various social classes – ex-hippie teachers, retired Texan couples, Motley Crue roadies and whatnot. Also I like when they stand in front of the automatic flushing toilets with their eyes full of awe and wave their hands around.
okay is that enough
This entry was posted on Saturday, January 1st, 2000 at 2:08 pm and is filed under
Bruce
,
Cartoons and Shit
,
Comedy/Laffs
,
Reviews
. You can follow any responses to this entry through the
RSS 2.0
feed. You can skip to the end and leave a response. Pinging is currently not allowed.