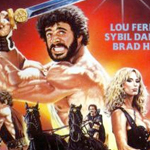 Enough with the cowboys. THE SEVEN MAGNIFICENT GLADIATORS is the sword and sorcery version of the SEVEN SAMURAI story. Obviously.
An evil Ming-the-Merciless-Halloween-costume-looking-motherfucker named Nicerote (Dan Vadis from EVERY WHICH WAY BUT LOOSE and ANY WHICH WAY YOU CAN) who apparently has some kind of magic sorcerer powers threatens his own mother (Barbara Pesante) that he's gonna come back and attack the village after the harvest. What a brat. So she sends Pandora (Carla Ferrigno [BLACK ROSES] in her movie debut) and three other women into town with "the mystical Sword of Achilles," which can only be held by the worthy. Find somebody worthy and get him to come protect the village.
They find Han (Lou Ferrigno, also in his first movie, though he'd already done six seasons of The Incredible Hulk), a gladiator who is said to be immortal, but it's not really explained very well. I guess he's not strong or immortal enough to do it on his own, so he has to put together a team which includes some gladiator friends and a badass cynical mercenary lady named Julia (Sybil Danning, who had already been in the space version of SEVEN SAMURAI, BATTLE BEYOND THE STARS). (read the rest of this shit…)
VERN has been reviewing movies since 1999 and is the author of the books SEAGALOGY: A STUDY OF THE ASS-KICKING FILMS OF STEVEN SEAGAL, YIPPEE KI-YAY MOVIEGOER!: WRITINGS ON BRUCE WILLIS, BADASS CINEMA AND OTHER IMPORTANT TOPICS and NIKETOWN: A NOVEL. His horror-action novel WORM ON A HOOK will arrive later this year.