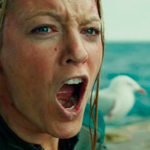 With the inauguration about to happen I think alot of us kinda feel like we're all alone, torn open, bleeding and floating on a dead whale, unable to get to shore because a shark the size of a fuckin bus wants to eat us and will not leave us be. So I thought you know what, what if there was a movie about somebody else in that situation, maybe if it had a positive outcome it would be a good inspirational tool for all of us as citizens of the United States and the world who hope to somehow survive the coming shit show of dangerous ignorance and blatant, barely-even-trying-to-fuckin-hide-it-at-all corruption.
The title THE SHALLOWS is not about the new management, it's just referring to an area of not-that-deep water that is the setting for a pleasingly simple 80-minute romp from Jaume Collet-Serra, director of HOUSE OF WAX, GOAL II, ORPHAN and three Liam Neeson vehicles (UNKNOWN, NON-STOP and RUN ALL NIGHT). Liam must've been busy doing SILENCE or something, so Collet-Serra went off and made this adaptation of Blake Lively's one woman off Broadway show about a surfer trapped on a rock after a shark attack.
I lied. It is not based on a one woman show. But it is almost entirely balanced on Lively's shoulders. She plays Nancy, who is always on screen and usually alone. Supporting characters who she'd also play in the stage version are:
1. Little boy seen on beach in prologue
2. Guy who gives her ride to beach
3. Her friend who was supposed to be with her, portrayed through text messages (read the rest of this shit…)
VERN has been reviewing movies since 1999 and is the author of the books SEAGALOGY: A STUDY OF THE ASS-KICKING FILMS OF STEVEN SEAGAL, YIPPEE KI-YAY MOVIEGOER!: WRITINGS ON BRUCE WILLIS, BADASS CINEMA AND OTHER IMPORTANT TOPICS and NIKETOWN: A NOVEL. His horror-action novel WORM ON A HOOK will arrive later this year.