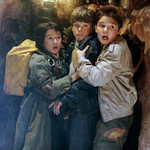 June 7, 1985
I have long held a stance on THE GOONIES that was highly controversial: I found it annoying. I don't think I'm alone on that anymore, but it used to get me into trouble because of how many people of a particular age group hold that movie as a sacred relic of childhood.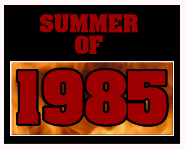 For most of my writing career I've had a policy of being ambiguous about my age, because I wanted to seem like a crusty old man, regardless of how little that seemed to fit with the particular things I was knowledgeable about. As I get closer to being authentically old and crusty I'm starting to be more lax about that, so at last the truth can be told: I am exactly the right age to have grown up loving this movie. In fact, I did grow up loving this movie. And I'll even go you one further: I saw it twice in one day. My mom took me and my friends to see it on my birthday, and since there wasn't room in the car for my siblings, she brought them to see it later in the day, and I went that time too.
But when I saw it again as an adult I learned something disappointing: those fucking goonies never fucking shut up! This despite one character putting their hand over another character's mouth to shut them up being a major motif. It's a movie starring a group of pre-teen boys, and though they're not quite as naturalistic as the kids in E.T. (which I think they were deliberately modeled after) they do have an accurate 12-year-old-boy energy, which means they're constantly joking and giggling and bickering and yelling over each other and telling each other to be quiet. I was less patient with them than my mom must've been with my carload of friends, so for years after that viewing I would say that GOONIES feels like being tricked into chaperoning somebody else's kids at Chuck E. Cheese. I didn't remember that Martha Plimpton's slightly older character actually sums up the movie well when she says something similar: "I feel like I'm babysitting except I'm not getting paid."
Fast forward to today. The futuristic year of 2020. That figurative trip to Chuck E. Cheese was considerably longer ago than the double-screening birthday party had been at that time. Since then I've learned things. I've been through things. My tastes have changed. The world has turned more goonie. I was kind of excited to see it again and find out if I still hated it. I had no idea if I would. (read the rest of this shit…)
VERN has a new action-horror novel out called WORM ON A HOOK! He has been reviewing movies since 1999 and is the author of the film criticism books Seagalogy: A Study of the Ass-Kicking Films of Steven Seagal and Yippee Ki-Yay Moviegoer!: Writings on Bruce Willis, Badass Cinema and Other Important Topics as well as the crime novel Niketown.