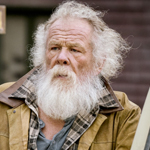 If you enjoy the HAS FALLEN saga, now in its third chapter, you don't need to read me disrespecting it in this review. I have no quarrel with you. But as much as I appreciate the existence of any ongoing theatrically released rated-R action series in this day and age, I have never achieved a worthwhile level of enjoyment from these fucking things.
What I remember from the first one, OLYMPUS HAS FALLEN, is that the action was messy enough to inspire me to invent the action comprehensibility rating (ACR) system, but there was one part where Melissa Leo defiantly recited the Pledge of Allegiance to terrorists about to execute her, and I liked that. What I remember about the second one, LONDON HAS FALLEN, is that the action scene that people claim was good made no impression on me and I was disgusted by its moronic jingoism and casual murder of civilians (which some tried to convince me was supposed to be sarcastic, but I couldn't see it).
The first two were location-based premises (the White House is attacked, London is attacked), this one makes the fair assumption that if we're still watching these we're okay just following legendarily amazing Secret Service agent Mike Banning (Gerard Butler, DRACULA 2000) whether he goes to a new city that gets attacked or not. "ANGEL" refers to him, a "guardian angel" who has "fallen" by being blamed for an attempted assassination of the president and having to go on one of those old fashioned fugitive runs to prove his innocence. (read the rest of this shit…)
VERN has a new action-horror novel out called WORM ON A HOOK! He has been reviewing movies since 1999 and is the author of the film criticism books Seagalogy: A Study of the Ass-Kicking Films of Steven Seagal and Yippee Ki-Yay Moviegoer!: Writings on Bruce Willis, Badass Cinema and Other Important Topics as well as the crime novel Niketown.