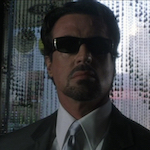 Nearly 30 years after GET CARTER and its American cousin HIT MAN there was another version of the movie and/or its source novel, Jack's Return Home by Ted Lewis. It starred Sylvester Stallone and was almost universally hated. Unsurprisingly it doesn't fare well if hung up on a wall next to the 1971 version, but I find it at least interesting as an exercise in adaptation and an oddity in the Stallone filmography. And maybe I'm a little easier on it because it takes place in Seattle, with some of it actually filmed here.
In the mid '90s, the ground was shifting under everyone's feet. Hair metal bands felt displaced by Nirvana, MC Hammer decided he had to sign to Death Row Records, and the action heroes of the '80s were starting to see the writing on the wall. So by the end of the decade the once dominant Stallone was trying to find his place in a new world. JUDGE DREDD (1995) had been a notorious flop, and ASSASSINS (1995) and DAYLIGHT (1996) were poorly received. He couldn't get Tarantino to cast him as Max Cherry in JACKIE BROWN. Though COP LAND (1997) had been one of Stallone's best performances, it didn't seem to bring him the critical credibility he was looking for, and his followup, the thriller D-TOX, was sitting on a shelf (it would be barely released in 2002 under the title EYE SEE YOU). Stallone been pigeonholed by his massive success as a larger than life action god, and many critics were more interested in rooting for his failure than seeing him evolve, or even return to his roots. (read the rest of this shit…)
VERN has a new action-horror novel out called WORM ON A HOOK! He has been reviewing movies since 1999 and is the author of the film criticism books Seagalogy: A Study of the Ass-Kicking Films of Steven Seagal and Yippee Ki-Yay Moviegoer!: Writings on Bruce Willis, Badass Cinema and Other Important Topics as well as the crime novel Niketown.