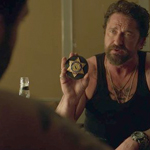 Have you ever seen a sprawling, nearly 2-hour-plus epic about a gang of bank robbers in Los Angeles, the special police unit trying to bust them, the parallels between the groups that make them as bad as each other and give them a macho bond, the chance public encounters they have in neutral spaces before the robbery, and the absurdly high capacity shootouts they have in broad daylight among the public… but that is only heavily influenced by Michael Mann, not actually directed by him? Oh yeah, it sounds like you saw DEN OF THIEVES too. It was okay though, right?
The thieves are led by ex-Marine Ray Merrimen (Pablo Schreiber, 13 HOURS) – who looks a little like a Christian Bale character, but feels more like Bodhi in the POINT BREAK remake – with goons including Evan Jones (Cheddar Bob from 8 MILE), 50 Cent (Young Caesar from GET RICH OR DIE TRYIN') and O'Shea Jackson Jr. (Ice Cube from STRAIGHT OUTTA COMPTON).
VERN has a new action-horror novel out called WORM ON A HOOK! He has been reviewing movies since 1999 and is the author of the film criticism books Seagalogy: A Study of the Ass-Kicking Films of Steven Seagal and Yippee Ki-Yay Moviegoer!: Writings on Bruce Willis, Badass Cinema and Other Important Topics as well as the crime novel Niketown.