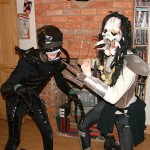 SPOILER ALERT !!
VERN VS. ALIEN VS. PREDATOR DASH REQUIEM
Aliens, predators, why do you always gotta fight? Why can't you just resolve your differences? I know they say "whoever wins, we lose" but I've seen both the AvP movies and clearly nobody is winning anything. We lose, and you lose our respect.
RESURRECTION and RATATOUILLE were already taken and they needed something that started with an R, so the title of this thing is REQUIEM. That might make you wanna ask who died, but you already know the answer: the remaining dignity of aliens and predators across the universe. Two proud races slandered and humiliated, on the Lord's birthday no less. And why? For what? What the hell did aliens and predators ever do to us other than entertain and delight us, scare us, fuck up our space colonies and skin some dudes in a jungle? Nothing. And for that we give them a franchise so lazy it can't even be bothered to spell out its own titles. (read the rest of this shit…)
VERN has a new action-horror novel out called WORM ON A HOOK! He has been reviewing movies since 1999 and is the author of the film criticism books Seagalogy: A Study of the Ass-Kicking Films of Steven Seagal and Yippee Ki-Yay Moviegoer!: Writings on Bruce Willis, Badass Cinema and Other Important Topics as well as the crime novel Niketown.