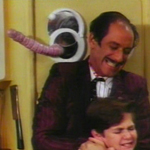 You know what they say about people who work in movies as some job other than director: they really want to direct. It happens to actors, it happens to writers, it happens to Mel Gibson's hairdresser who directed PAPARAZZI. It also happens to special effects makeup artists. Tom Savini directed the quite good NIGHT OF THE LIVING DEAD remake. Stan Winston directed PUMPKINHEAD and A GNOME NAMED GNORM and Michael Jackson's GHOSTS. John Carl Buechler directed TROLL and FRIDAY THE 13TH PART VII and a bunch of other stuff. Kevin Yagher (partially) directed HELLRAISER: BLOODLINE. Of all these, the weirdest is the one that Tom Burman did, MEET THE HOLLOWHEADS.
Maybe Burman isn't as well known as some of those other guys. In recent years his work has been on hospital-set TV shows – Grey's Anatomy, Private Practice, Chicago Hope, Nip/Tuck. Good work if you can get it. But he's been in the business since the '70s, creating the titular heads of THE THING WITH TWO HEADS, doing makeup for FROGS, THE BOY WHO CRIED WEREWOLF, THE FOOD OF THE GODS, THE ISLAND OF DR. MOREAU, INVASION OF THE BODY SNATCHERS, and the Wookiees in The Star Wars Holiday Special. His work spans from classic gore moments (MY BLOODY VALENTINE, HAPPY BIRTHDAY TO ME, HALLOWEEN III) to werewolves (TEEN WOLF) to fantasy (SCROOGED) to action movies (DIE HARD 2, THE LAST ACTION HERO, CON AIR). He worked on Sloth in THE GOONIES, the monster in HOWARD THE DUCK and the Supreme Leader in CAPTAIN EO.
But in the late '80s he decided to make his own movie to exercise and showcase the skills of The Burman Studios, the company he ran with his sons Barney and Rob. I remember it was on the cover of Fangoria under the title LIFE ON THE EDGE, and that might be the only reason I was aware of it. (read the rest of this shit…)
VERN has a new action-horror novel out called WORM ON A HOOK! He has been reviewing movies since 1999 and is the author of the film criticism books Seagalogy: A Study of the Ass-Kicking Films of Steven Seagal and Yippee Ki-Yay Moviegoer!: Writings on Bruce Willis, Badass Cinema and Other Important Topics as well as the crime novel Niketown.