THIS IS A FREE RANGE SPOILER REVIEW. THE SPOILERS ARE NOT KEPT IN CAGES. THEY JUST RUN ALL OVER THE PLACE, INCLUDING THE FIRST COUPLE SENTENCES. SEE THE MOVIE FIRST.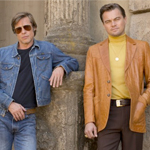 ONCE UPON A TIME… IN HOLLYWOOD is an odd and beautiful movie from… Quentin Tarantino. It's undeniably one that only he could or would make – it's even in his now-trademark 'wish-fulfilling rewrite of a historical atrocity' mode – but it's different. It's not as mean and angry as the last three, or as carefully plotted as any of them. It's sort of a hang out movie, a day-in-the-life of two friends, and a gentle tale of surviving a mid-life crisis, wrapped in a love letter to Los Angeles of the late '60s, and to the then-fading leading men of the '50s, with a chaser of gruesome violence. The fun kind, though. The cathartic kind.
Throughout his career, Tarantino has shown his affinity for cool shit like spaghetti westerns, blaxploitation movies, kung fu and crime novels. Here's where he says "Fuck it, I also like old cowboy shows and procedurals and stuff." When the guy who makes film exhibition and criticism a major element of his WWII epic does one that's actually about the Hollywood film industry, obviously he's gonna go buck wild. The amount of detail he puts into the fictional career of TV star Rick Dalton (Leonardo DiCaprio, two episodes of The New Lassie) – to the point of needing a narrator to talk us through each entry from his Rome period – reaches the level of sci-fi world building. And of course Tarantino, being Tarantino, gives us a soundtrack that drips the sixties without one whiff of Creedence, Dylan, the Doors or Hendrix. Admittedly "Mrs. Robinson" is in there somewhere, but he leans more Deep Purple, Vanilla Fudge and Paul Revere & the Raiders. One of the few I knew was the Neil Diamond song. (read the rest of this shit…)
VERN has a new action-horror novel out called WORM ON A HOOK! He has been reviewing movies since 1999 and is the author of the film criticism books Seagalogy: A Study of the Ass-Kicking Films of Steven Seagal and Yippee Ki-Yay Moviegoer!: Writings on Bruce Willis, Badass Cinema and Other Important Topics as well as the crime novel Niketown.