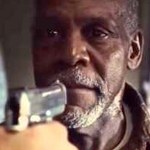 I can't believe this actually happened, but I found out about a movie from a trailer on a DVD that I rented, and then I rented that movie. And it didn't turn out to be a great movie but it was a fairly interesting one that I don't think got any attention at all, so I might use this technique again.
SUPREMACY is the story of swastika-and-Confederate-flag-tattooed Aryan Brotherhood fucko Garrett Tully (Joe Anderson, ACROSS THE UNIVERSE, THE CRAZIES, THE GREY, HERCULES, Mason Verger on Hannibal) who gets out on parole and on his first day out robs a convenience store, gets pulled over, and shoots a cop. So, with helicopters overhead and roadblocks all around he and Doreen, (Dawn Olivieri, THE LAST WITCH HUNTER), his white power associate assigned to pick him up from prison, break into a house and take a family hostage. As luck would have it the family are black, so there is quite a bit of tension and racial slurs here.
The head of the household is an ex-con himself, Mr. Walker (Danny Glover, PREDATOR 2), who lives with his girlfriend Odessa (Lela Rochon, KNOCK OFF), her son Anthony (Evan Ross, THE HUNGER GAMES: MOCKINGJAY 1-2), daughter Cassie (Robin Bobeau, "Excited Lady," BAADASSSSS!) and grandson Jamar (Alex Henderson, Young Andre on Empire and Young Adonis in CREED) and a baby. Tully and Doreen point guns at them and hole them up in an upstairs bedroom and try to claim they're being reasonable even as they threaten them and bring up dumb racist stereotypes and shit. So Mr. Walker has to find a way out of this. (read the rest of this shit…)
VERN has a new action-horror novel out called WORM ON A HOOK! He has been reviewing movies since 1999 and is the author of the film criticism books Seagalogy: A Study of the Ass-Kicking Films of Steven Seagal and Yippee Ki-Yay Moviegoer!: Writings on Bruce Willis, Badass Cinema and Other Important Topics as well as the crime novel Niketown.