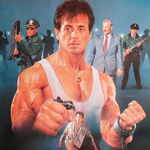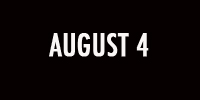 It could be argued that LOCK UP isn't quite an action movie – that it's more of a drama with some violence and extreme villainy. And if it is action I'm not sure how it fits into the theme of this series about a shift in the genre heading into the next decade. No, it doesn't seem like the '90s ones with "DIE HARD on a _____" type hooks (CLIFFHANGER, DAYBREAK) or special effects and stylized settings (DEMOLITION MAN, JUDGE DREDD). But it's also not quite the over the top feel we associate with the '80s because of movies like RAMBO: FIRST BLOOD PART II, COBRA and, well… OVER THE TOP. It has a score by Bill Conti (fresh off of THE KARATE KID PART III) that brings ROCKY-like majesty, especially during the montage of the harrowing football game that's intentionally more about hurting him than sport. This is Stallone in tough-but-vulnerable mode, and even has a part where he builds to a yelling, emotional speech kinda like the end of FIRST BLOOD.
I attribute the film's timelessness and grit to director John Flynn, a legend to me because of THE OUTFIT and ROLLING THUNDER in the '70s and OUT FOR JUSTICE in the '90s. This was his followup to BEST SELLER. He didn't generally participate in trends – he just made John Flynn movies. (read the rest of this shit…)
VERN has a new action-horror novel out called WORM ON A HOOK! He has been reviewing movies since 1999 and is the author of the film criticism books Seagalogy: A Study of the Ass-Kicking Films of Steven Seagal and Yippee Ki-Yay Moviegoer!: Writings on Bruce Willis, Badass Cinema and Other Important Topics as well as the crime novel Niketown.