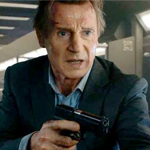 Liam Neeson is… The Commuter, starring in his self-titled, totally solid addition to the catalog of Neeson vehicles directed by Jaume Collet-Serra (UNKNOWN, NON-STOP, RUN ALL NIGHT). Written by previously unknown Byron Willinger and Philip de Blasi, this is a gimmicky suspense thriller taking place almost entirely in the limited location of a New York City commuter train, but it manages to also mix in a couple of impressive action exclamation points, not to mention the director's endlessly playful computer-assisted camera show-offery.
The Commuter is Michael McCauley, an ex-cop who is suddenly fired from his current job at an insurance company, and then finds himself under siege in dark territory on the ride home. It's the train he's been riding for ten years, and most of the passengers know him by name, make small talk with him and ask about his wife (Elizabeth McGovern, ONCE UPON A TIME IN AMERICA, CLASH OF THE TITANS) and kid (Dean-Charles Chapman, Game of Thrones). The usual sameness of his mornings is cleverly illustrated in an opening scene that shows him getting up, having breakfast, talking to the family and getting dropped off at the train, jaggedly cutting between seasons, emotions and conversations to show the passage of time without interrupting the flow of the daily routine. (read the rest of this shit…)
VERN has a new action-horror novel out called WORM ON A HOOK! He has been reviewing movies since 1999 and is the author of the film criticism books Seagalogy: A Study of the Ass-Kicking Films of Steven Seagal and Yippee Ki-Yay Moviegoer!: Writings on Bruce Willis, Badass Cinema and Other Important Topics as well as the crime novel Niketown.